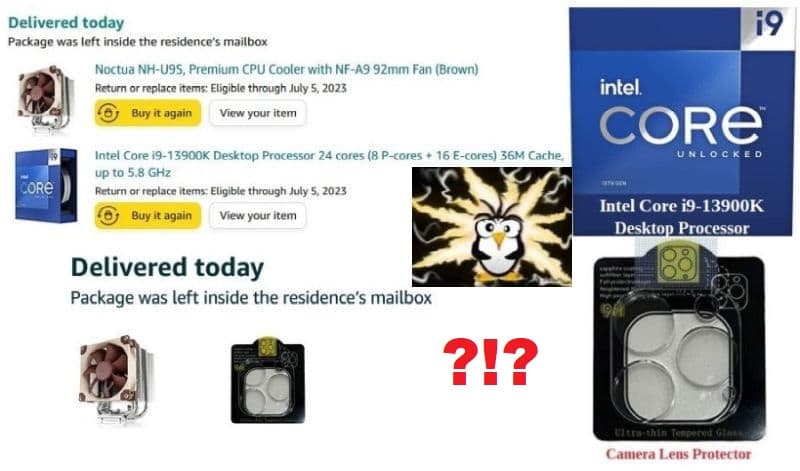 OK, 'Thangs have slowed to a crawl – fortunately I am in no rush 'n just keep spending more money whilst I wait. 😁👍 However, instead of four Parts there will be a Part 5: here are the links to Part 1, Part 2, and Part 3.
Let's get started…
'Delivered Today'
I knew that "$50 drop in the price of an Intel® Core™ i9-13900K CPU" mentioned in Part 3 looked unusual for the 2nd 'Fastest average effective speed CPU' right now: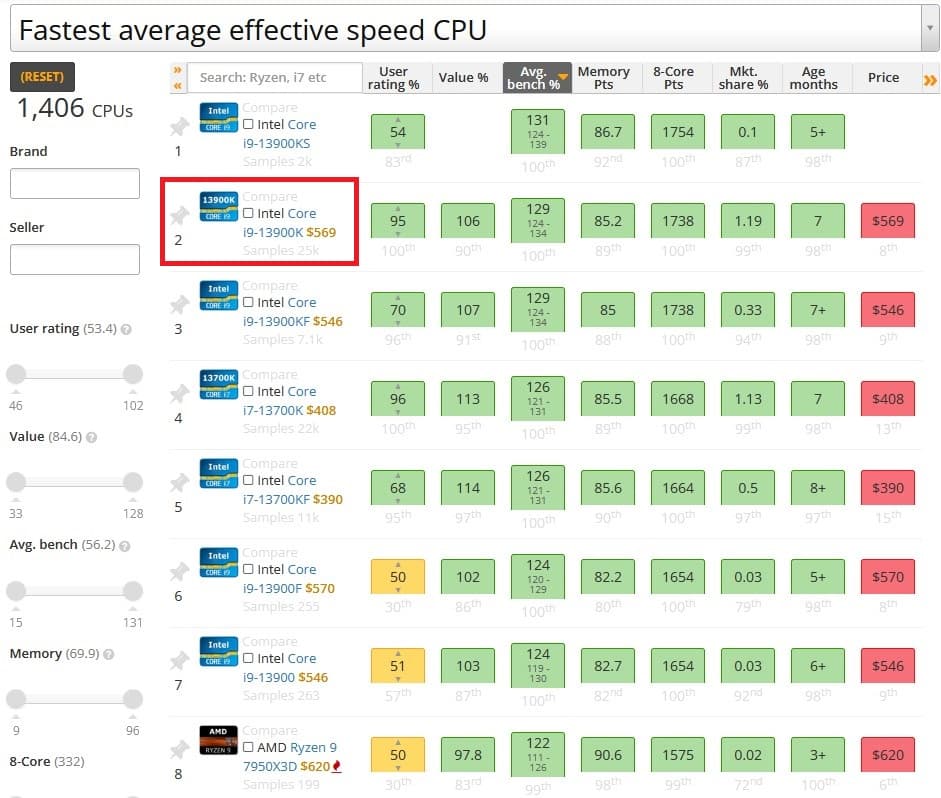 There were supposedly two items in that Amazon shipped order – an Intel® Core™ i9-13900K CPU & a Noctua NH-U9S fan/cooler.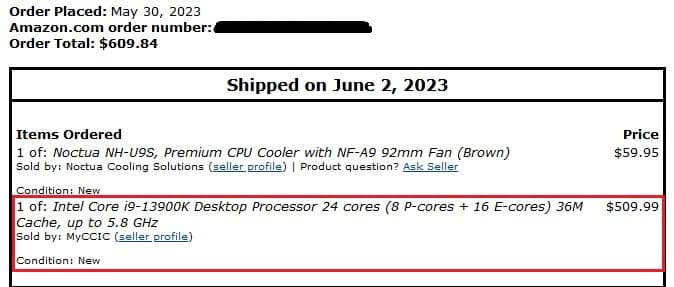 Got an USPS email saying: 'Your item was delivered in or at the mailbox at 10:55 am on June 5, 2023'. Rushed out to my BIG mailbox 'n it had a big package from Amazon in it. \o/ 'Hippity hip Hoorah' \o/
Back at the 'Hut' the package was opened – WTF!?! The Noctua fan/cooler was in it, but no $509.99 Intel CPU. 🤔 Went inside and logged into Amazon, and it said the package was "Delivered Today" so I opened that notice 'n it showed the Noctua fan/cooler & something weird looking:
That 2.75″ x 2.75″ x 0.125 lens package was at the bottom of the shipping box – barely noticeable when looking for an Intel® Core™ i9-13900K CPU!?!
Long story short – Amazon said they were at fault, for the item that seller MyCCIC sold me, and said they would refund my money. I said – just ship me the processor because I don't mind waiting for it. They said – 'No, we have to refund your money'. That "$50 drop in the price" was just too good to have been true! 😉 Besides, I think some sellers just do it to get your attention.
Refund & New Order
Refund of $545.69 including tax, and I'll get into the new costs in a moment; however, at this point my math could be off a little, because I am tired of keeping the costs. 🙂
I had already started spending money, so I wasn't going to wait for another price drop on that i9 13900K:
I'm no gamer, but Newegg was giving a free "Total War WARHAMMER III" & a $20 discount, which made it $559.99 w/ $39.20 Tax = $599.99 'n free shipping.
$599.99 – $545.69 = $54.30 added to total costs so far.
NEW – Total Costs (so far)
I had been in no rush to buy that Intel® Core™ i9-13900K CPU 'n was willing to wait for a good drop in price. Once that "$50 drop in the price" showed up, I purchased other components, and the rock was rolling downhill at that point.
ASUS Prime Z790M-PLUS D4 LGA 1700 mATX MoBo – normally $190.99++ drop to $171.89 ($183.92 w/ Tax)
ASUS Dual NVIDIA GeForce RTX 3060 Ti OC Edition for $364.00 from Newegg ($390.54 w/ Tax)
Noctua NH-U9S $59.95 ($64.15 w/ Tax)
Total so far — $638.61
EVGA SuperNOVA 1000 G6 $189.99 ($13.30 Tax = $203.29)
Total so far — $841.90
EZDIY-FAB 5.25in 10Gbps USB 3.1 Gen2 Hub and Type-C Port, Front Panel USB Hub with QC 3.0 Quick Charging from Amazon for $41.00 (plus $2.94 Tax = 44.93)
MS Windows 11 Pro OEM CD-KEY GLOBAL from VIP-URcdkey for ($19.89 w/ discount 'n Code). Windows 10 Pro was less that $10 w/ discount 'n code, but I didn't fell like doing another Upgrade w/ this build.
Total — $906.72
Intel® Core™ i9-13900K CPU for $559.99 w/ $39.20 Tax = $599.99.
Total so far — $1506.71
OK – that's the new costs to this point, after the $545.69 refund for the processor 'n then a new processor added.
Yesterday, I decided to go ahead 'n get new RAM for this build, and put that old 32 GBs of RAM into the recent 'Rose' Upgrade. I'll end up w/ an extra 16 GBs (2×8) of old RAM, but a few spare GBs can come in handy sometimes, e.g., testing and/or an emergency.
I also like to keep my OS on a smaller drive – separate from Data drives 'n such. I like about 250 to 256 GBs for my Win11 Pro OSes.
CORSAIR Vengeance LPX 64GB (2×32GB) DDR4 3600 (PC4 28800) Model CMK64GX4M2D3600C18 for $126.99 w/ $8.89 Tax = $135.88.
970 EVO Plus NVMe® M.2 SSD 250GB for $29.99 w/ $2.10 Tax = $32.09.
Total = $1674.68
That's about $175 more than I had planned on, but decided to go ahead 'n get the RAM now instead of upgrading the old 32 GBs later this year, and really didn't like my OS being on a 500 GB drive wasting space. 64 GBs (2×32GB) also leaves two Memory slots open on the MoBo in case I want more later.
Conclusion
In a waiting pattern now, but all components should be here by June 13th — 👍👌🙂 — maybe even by this Saturday. 🤞 
Meanwhile, I have RAM to move around, a CPU arriving tomorrow so I can go ahead 'n start testing the basic setup. I have a homemade 'Test Bench' that the power supply can plug into this new build until new EVGA 1000 watt PS arrives Friday. I'll add the NVIDIA GeForce RTX 3060 Ti after the new 250 GB NVMe® M.2 drive arrives Saturday.
I'll do a Part 5 final after everything is in 'n running…