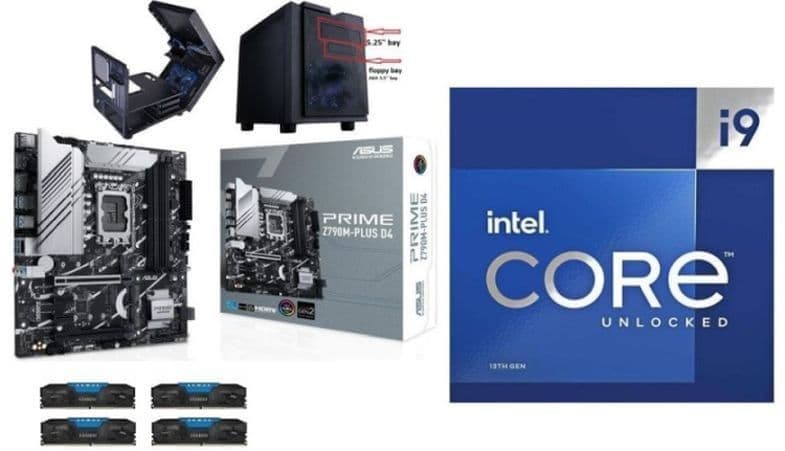 I've been building my own desktop computers since 2004, and have gotten better at it over the years. Currently have a main PC – 'Apevia' and two main Test/Secondary PCs – 'Rose' & Frankenstein (AKA – 'Frank'). Their parts are listed at – Buy Low or BYOC – 'Build Your Own Computer'.
Two more PCs are sitting in a shed – listed as not needed or retired, and a homemade Test Bench. 🙂 Parts can build up over time, e.g., a few years ago I finally threw away a gallon ziplock baggie full of old desktop memory. Now I try to better manage memory in new builds and/or upgrades, but eventually even that memory will become too old to use in a modern PC.
For about 7 years now, I have been using a case I like to build a new computer in – this time it's a Apevia X-Qpack3-NW-BK, taking the MoBo from that case (left pretty much intact), and moving it to another case as an upgrade. Switching memory and other components around, upgrading an older case #2, and then building a 'New' computer in case #1 from there.
'Apevia' gets new Build & 'Rose' gets Upgrade
This is Part 1 of a new Build & Upgrade I have been planning, and am now working on gathering the components. It is also my third build using an Intel® Core™ i9 Processor – 1st was an Intel® Core™ i9-9900 & 2nd was an Intel® Core™ i9-10900K – this is going to be an Intel® Core™ i9-13900K.
Have been watching for price drops, and spotted a price drop on the ASUS Prime Z790M-PLUS D4 LGA 1700 mATX MoBo – normally $190.99++ drop to $171.89 ($183.92 w/ Tax) @ Amazon.
The Intel® Core™ i9-13900K runs at $569.99++ most of the time w/ a low at $564.99 right now, but I am in no rush – tho $564.99 may be the lowest it gets for most of this year. Probably buy it next month or in July at the best price I can get.
Looks like I will need to buy a new Noctua NH-U9S CPU cooler (super quiet) since I probably don't have the LGA 1700 mounting-kit for the old one on 'Apevia' – they have been included w/ NH-U9S since 12/2021, but I purchased this one in 2020. They usually run $59.99 'n are well worth the price—run super quiet & cool!!!
I will pull MoBo from 'Rose' and put the one now in 'Apevia' into 'Rose'. The Intel® Core™ i7-8700 is a super CPU, but the old cheap Gigabyte H310M A MoBo may be the worst board I've ever owned – besides, the i9-10900K is a big upgrade for 'Rose'. My computers are usually named for their cases – w/ 'Frank' being one exception.
Will use the 32GBs of memory from 'Apevia' in this new i9 13900K build, and remove memory from the old H310M A MoBo to the board being moved into 'Rose' – I try to buy memory 'n MoBo's that are compatible w/ my other memory 'n boards, and that requires planning way in advance.
Will also remove the SAMSUNG 970 EVO Plus SSD 500GB – M.2 NVMe Interface SSD and the Adata XPG SX6000 Pro M.2 PCIe NVMe SSD from the old H310M A MoBo, because 'Rose' will remain a Test machine. I need to switch OSes when testing Linuxes 'n etc. so OSes go on standard SSD drives in Hot-swap SATA bays – KF-251-BK.
One of the reason for this new i9 13900K build is that fiber cable is headed to my area this year w/ speed options of 100 MBPS, 1 GBPS & 2 GBPS.
I've never had download speeds of 100 Mbps (12.5 MB/s), and I believe that is what is being offered instead of that "100 MBPS" shown in the pic – ISPs are all tricky that way. 😉 I have no clue how fast 1 or 2 Gbps is, but clearly it is fast. Hence the need for a newer MoBo wid Intel® 1Gb Ethernet support, and future upgrade ability – e.g., faster memory upgrades, upgrade my exterior USB connections, and a new GPU (if I don't buy a new one now—Dual GeForce RTX 3060 Ti or similar) ……… hold on.
OK — Just purchased an ASUS Dual NVIDIA GeForce RTX 3060 Ti OC Edition for $364.00 from Newegg ($390.54 w/ Tax). Have wanted one for a long time – \o/ 'Hippity hip Hoorah' \o/ 😁 Will probably need a new power supply, but that is OK – build is now at $574.46 spend (includes Tax & Free Shipping).
Estimate: new i9 13900K w/ Tax + new fully modular 750+ watt power supply (600-699 Watts suggested – ASUS calculator says 750-1000 watts ) with Tax + Noctua NH-U9S CPU cooler comes to about $805. Should be less than a total of $1400 since I already have the case, memory, two M.2 PCIe NVMe's, and hot swap bays. The new GeForce RTX 3060 Ti needed a new power supply, and those two components will bump up the price by $530+. I had planned on around $900/1000 using the same 550 watt power supply 'n same GeForce GTX 1660 Super, but was also hoping to find a 3060 Ti for less than $450. No rush, so I pay for it as I go until all the parts are collected 'n paid for. $1400/1500 for a rig like this is dirt cheap compared to what a prebuilt would cost.
Conclusion
I wasn't expecting to find or buy a GPU at this point, but Memorial Day is *BIG* in America, and I wanted to watch for sales.
I had been watching the ASUS Prime Z790M-PLUS D4 LGA 1700 mATX MoBo prices for some time now, and it just dropped to a price I liked. The ASUS Dual NVIDIA GeForce RTX 3060 Ti OC Edition was a surprise bonus.
Next month I will probably buy a new power supply, and ASUS recommends 750 watts if Over clocking is off, but that jumps to 1000 watts if you Overclock the GPU & CPU or plan on a future upgrade.
I'll research the topic a little more, since I may end up doing another GPU & memory upgrade in 3-4 years. Actually, this is the second upgrade for 'Apevia' – the Intel® Core™ i9-10900K was done back around March 21, 2021. AMD had duped me into believing that the Ryzen™ 9 3900X was a really fast processor: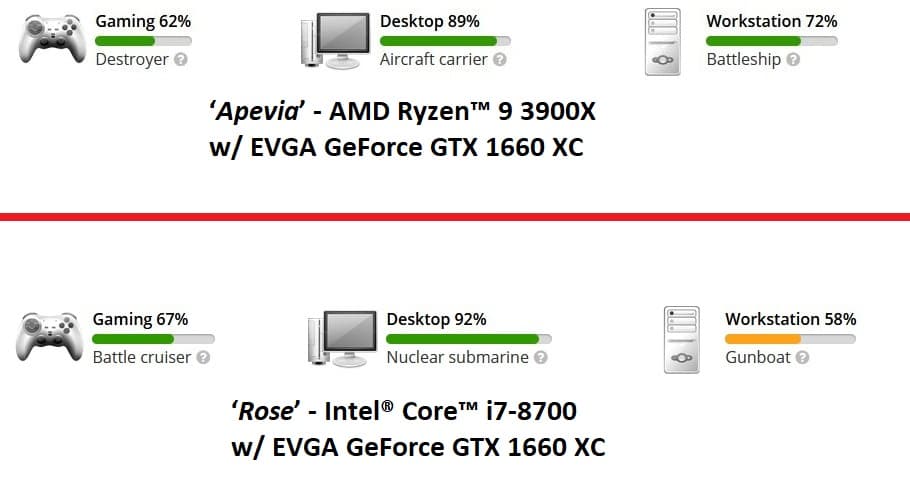 For 'Desktop Duty' – the much older & much cheaper Intel® i7-8700 CPU out performed that new AMD Ryzen™ 9 3900X. AMD has always been overrated 'n they spend far too much on hyping their products. Oh, a Ryzen™ 5 3400G was the first processor in 'Apevia', and I liked it better than that Ryzen™ 9 3900X, but the 3400G now sits in an unused computer out in a shed.
'Rose' will get the current 'Apevia' setup minus the 32 GBs of memory & two M.2 PCIe NVMe's, i.e., 'Rose' will keep the 16 GBs of memory on the soon to be 'retired' (to a dumpster) Gigabyte H310M A MoBo. 😉
Last but not Least is a free 'Tip' – PCPartPicker is my favorite site to plan a computer build. They have a "Choose Your Parts" area where you can add parts to a build, and can save that list if you're registered w/ them. The saved parts have real time best prices listed, and all parts are checked for compatibility w/ each other.
Next update (Part 2) might not be until I purchase the i9 13900K…