A lot has happened since Part 1 on 5/29/23 — mainly, the Intel® Core™ i9-13900K CPU started dropping in price 'n then dropped again. After I saw the first big drop in price, I purchased it at $509.99, and a day later it dropped again to $499.99.
I don't ever recall Intel dropping their price for their top Intel® Core™ i9 Processors this much–this early, e.g., best price for an i9-12900K right now is $402.27. It must be a good time to Build and/or Upgrade a desktop computer — the ASUS Dual NVIDIA GeForce RTX 3060 Ti OC Edition I had just purchased for $364.00 (which was a bargain) is now at $319.99 from B&H.
'To Make a Long Story Short' — after buying the CPU, I decided to go ahead 'n purchase all the needed components to build a new computer inside the Apevia case (no longer available & mine doesn't have all those LIGHTS!). I'll get into the new components in Part 3 of this series.
'Rose' has Plastic Surgery 😉
I usually name all the computer that I build by their case manufacturer–wid Frankenstein (AKA – 'Frank') being the new exception. The case for 'Frank' is a Cooler Master Elite 130, and it is now made up from parts of 'CM130' & 'Antec Jr.' (both damaged in lightning strike) & 'InWin' (for it's MoBo).
'Rose' is in an old Build using a $20 Rosewill – FBM-01 Micro ATX Mini Tower case, originally built around March 24, 2019, and has had many upgrades since then — none bigger than this new Upgrade (AKA 'Plastic Surgery'). 🙂
The Rosewill case is my second favorite case — Evah wid the Apevia case my all-time favorite. Removed the 32 GBs of memory & the SAMSUNG 970 EVO Plus SSD 500GB – M.2 NVMe Interface SSD (had Win11 Pro) from the Apevia case, then removed the ASUS Prime Z490M-PLUS MoBo intact, and placed it in the Rosewill case. Took the 16 GBs of memory from the old GIGABYTE H310M A board 'n placed it in the newer Z490M-PLUS MoBo.
The Rosewill case already had a Kingwin KF-251-BK Dual-Bay in it, and I added the Kingwin KF-253-BK Dual-Bay from Apevia to it. I can put the Win11 Pro SSD in the KF-253-BK top bay, and a DATA SSD in it's bottom bay–turn the bays off when testing Linux OSes in the Kingwin KF-251-BK Dual-Bay. The KF-253-BK also has two USB 3.0 ports
Benchmark results after Upgrade

UserBenchmark tests offer results for Gaming, Desktop ('Desktop Duty'), and Workstation. The old MSI GeForce GTX 1660 SUPER™ VENTUS XS OC is still doing a great job! 👍😁👏👌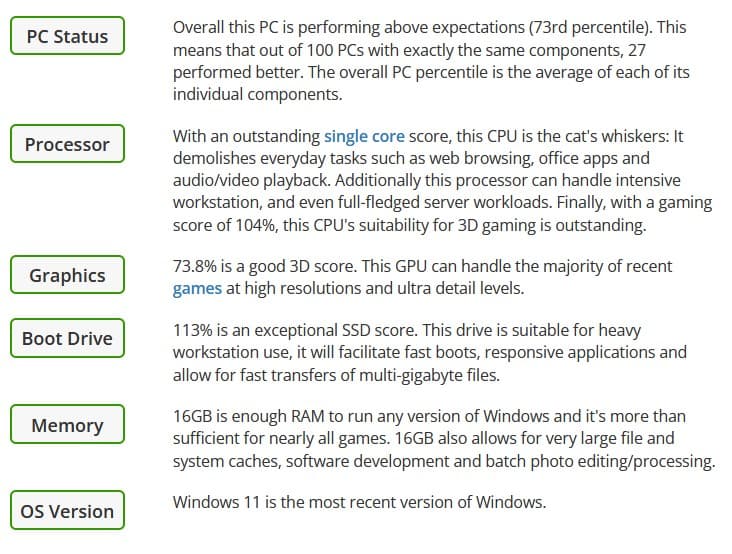 The Intel® Core™ i9-10900K launched in Q2'20 and is still the "cat's whiskers" performance wise! It is running between $319.99 to $377.99, so this is a major 'Freebie' Upgrade for 'Rose'!!! 🙂
Conclusion
OK — I had saved a fresh Back and Restore (Windows 7) image of Win11 Pro OS on the SAMSUNG 970 EVO Plus SSD 500GB – M.2 NVMe Interface SSD, and then restored it to a standard 500 GB SAMSUNG SSD before removing it from the ASUS Prime Z490M-PLUS MoBo. The M.2 NVMe will now be used on the new ASUS Prime Z790M-PLUS D4 MoBo headed to the Apevia case.
Everything went well wid the 'Plastic Surgery' for 'Rose' 😉 and I am very pleased wid the results right now!
The Rosewill case is more difficult to work in than the Apevia case, but went easier wid the mATX 9.6″ x 9.6″ Z490M-PLUS than it seemed to have gone wid the old mATX H310M A at a 8.89″ x 7.28″ size?! 🤔
Anyway, Part 3 is up next…