Part 1 (5/29/23) was about 'Planning' a new Intel® Core™ i9-13900K Build whilst reusing an Apevia case, its 32 GB RAM, its 500 GB SAMSUNG 970 EVO M.2 PCIe NVMe (for OS), a Adata XPG SX6000 Pro M.2 PCIe NVMe (for data), and a Kingwin KF-251-BK Dual-Bay Hot Swap Rack.
No rush or actual date for finishing the Build was set; however, an ASUS Prime Z790M-PLUS D4 LGA 1700 mATX MoBo had just been purchased for $183.92 w/ Tax 'n free shipping.
Whilst writing Part 1 – I had noticed PCPartPicker showing a large drop in price for a ASUS Dual NVIDIA GeForce RTX 3060 Ti OC Edition – a drop from over $425++ to $364.00 ($390.54 w/ Tax) and I also purchased it.
Part 2 (6/1/23) was removing the MoBo from the 'Apevia' computer and placing it (mostly intact) into the 'Rose' computer – a huge Intel® Core™ i9-10900K Upgrade for that computer. I am now using 'Rose' as my main PC until 'Apevia' is re-Built.
Costs Incurred to Date
I had already saved most of the costs for a new Build, and had just started planning & checking component prices when deciding to do a post on the project. 👍🙂 Things moved incredibly fast at that point.
A day after doing Part 1 – PCPartPicker showed a $50 drop in the price of an Intel® Core™ i9-13900K CPU 'n I quickly purchased it.
Needed a cooler for a CPU, and I purchased a $59.95 Noctua NH-U9S for it – Noctua makes some of the best cooling products, IMHO, and they are so simple 'n easy to install. Super quiet fans 'n efficient coolers. 👍👌👏
OK – I now had a MoBo, GPU, CPU, and a CPU cooler – makes no sense to slow down now. 😁
ASUS Prime Z790M-PLUS D4 LGA 1700 mATX MoBo – normally $190.99++ drop to $171.89 ($183.92 w/ Tax)
ASUS Dual NVIDIA GeForce RTX 3060 Ti OC Edition for $364.00 from Newegg ($390.54 w/ Tax)
Intel® Core™ i9-13900K CPU $509.99 & Noctua NH-U9S $59.95 = $569.94 (plus $39.90 Tax = $609.84)
Total so far — $1184.30
I was going to need a new power supply, and bargain basement shopping wasn't going to do it this time. ASUS Power Supply calculator recommended 750 watts w/ no Overclocking or 1000 watts w/ Overclocking OR plans to Upgrade in the future.
That calculation was based on selecting Intel Core i9 for CPU & selecting NVIDIA GeForce RTX 3060 Ti for GPU. I plan Upgrades for this Build in the future and went for a Power Supply w/ a 10 Year Warranty, fully modular, Japanese Capacitors, efficient, and QUIET – EVGA SuperNOVA 1000 G6.
EVGA SuperNOVA 1000 G6 $189.99 ($13.30 Tax = $203.29)
Total so far — $1387.59
$189.99 is about three-times what I normally try to pay for a power supply, and I now have three unused ones in the shed…well, one is used on my Test Bench, but it stays in the shed until needed, and I don't need it w/ the Apevia X-Qpack3-NW-BK case since it is already easy to work in.
The Apevia case has an opening under MoBo's CPU for adding coolers 'n such – and the power supply is located out-of-the-way under the MoBo. Great case, but no longer available, for some reason.
Next, I wanted some faster ports on my front panel, and at least one USB Type-C port that didn't require use of another 20-pin USB 3.2 Gen 1 header on MoBo 'n the EZDIY-FAB would do: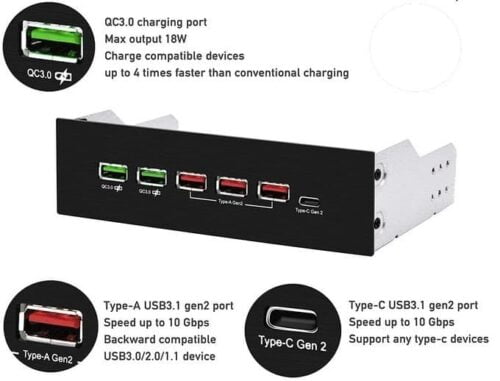 EZDIY-FAB uses the USB 3.2 Gen 1 Type-C® Front Panel connector on the new MoBo, another reason I needed to Build a new system. 👏🙂👌
At this point, using new components 'n older parts, this Build was ready for an OS, so I headed over to VIP-URcdkey 'n they directed me to WelcomeVIPS for a special discounted price – purchased a CD-Key for Win11 Pro at $19.89. Have purchased about ten MS Windows OEM CD-Keys from four different sites since 2018, and have never had a problem w/ any of them – purchased MS Student Office products the same way. 👍👌 They were lower than two other sites I checked – perfect! 😊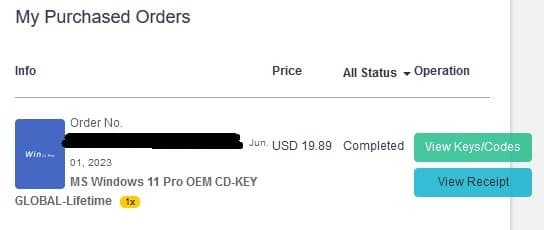 EZDIY-FAB 5.25in 10Gbps USB 3.1 Gen2 Hub and Type-C Port, Front Panel USB Hub with QC 3.0 Quick Charging from Amazon for $41.00 (plus $2.94 Tax = 44.93)
MS Windows 11 Pro OEM CD-KEY GLOBAL from VIP-URcdkey for ($19.89 w/ discount 'n Code). Windows 10 Pro was less – $10 w/ discount 'n code, but I didn't feel like doing another Upgrade w/ this build.
Total — $1452.41
Conclusion
$1452.41 isn't bad for a new re-Build to one case 'n a big Upgrade to a main Linux Testing computer.
'Frank' is in a tight Cooler Master Elite 130 case so the 3-slot EVGA GeForce GTX 1660 won't fit, and is probably headed to the shed, unless I switch wid 'Rose' – probably not since I'd need to switch from 500 watt power supply to the 550 watt just pulled from the Apevia case, to be safe. 😝 Nice GPU, so I may make the switch at some point. 🤔
MoBo has a Thunderbolt™ (USB4®) header that I may use in the future — for their ThunderboltEX 4 – tho I may never need such, i.e., there are some fast ports on the rear also.
Have 32 GBs of Ram already, but may move that to 'Rose' later this year 'n upgrade the RAM in the new 'Apevia' Build.
Looks like a Part 4 final might be needed, after the 'new' Build…