Built my home ('Hut') in 2009, with the help of a construction friend, and since costs were a concern back then I went wid T1-11 Plywood Siding. Construction jobs in America had disappeared after Obama became president, so I basically had to sell my bigger home 'n property to pay off credit cards 'n my truck, and move to Social Security earlier than planned.
New property 'n home would be paid for in cash, since debt was no longer an option whilst on Social Security. Downsized my living space to 320 sq feet, but had a 600 sq foot roof area, and used the remaining 280 sq feet to park my boat or truck:
Over the years I built two Pole barns 'n added extension roof-overs on two sheds: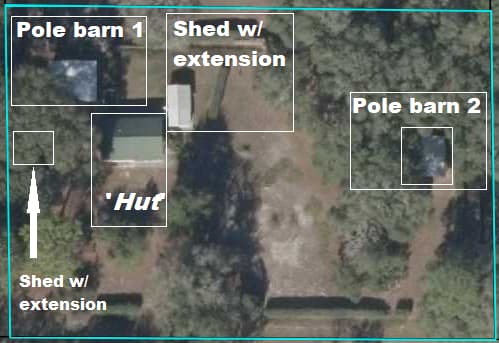 With the Pole barns added, I no longer needed the small carport/boatport, and am now making my main workshop in it. Workshop was in the bigger Pole barn 1 along wid the truck parking area, but I wanted it closer whilst starting this new 'Hut' exterior maintenance project. The new table saw is in Pole barn 1 workshop area, but most everything else has been moved to the new main workshop area (old carport).
Yes, I needed new tools for this project, since I was tired of using a circular saw for all my carpentry work.
New Tools
RYOBI 15 Amp 10 in. Compact Portable Jobsite Table Saw with Folding Stand @ Home Depot for $189.
I didn't need a big saw area for cutting 4′ by 8′ sheets of plywood so a 12″ Rip Capacity was big enough. I did keep a 4′ by 8′ work bench to put the table saw next to for cutting 'n such. Kept in the Pole barn since I won't be using it a lot, and that saved work space in the new main workshop.
Metabo HPT 10-Inch Miter Saw @ Amazon for $99.
I am using this miter saw a lot…can't believe I waited all these years before buying one!?! $99 was a steal for this saw!
RYOBI ONE+ 18V 18-Gauge Cordless AirStrike Brad Nailer @ Home Depot for $99.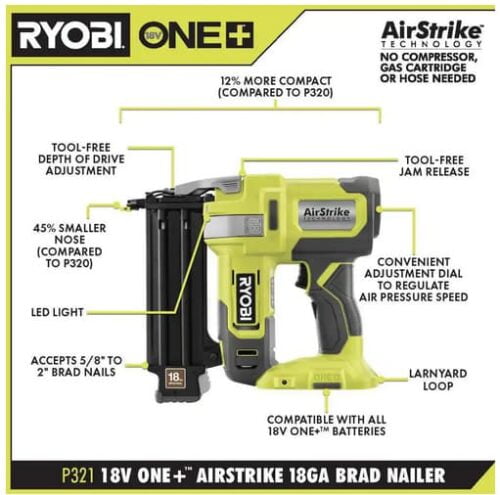 I have all kinds of RYOBI ONE+ 18V cordless tools, e.g. air gauge, hedge trimmer, reciprocating saw, circular saw, hand vac (best ever!!!), leaf blower, Impact Wrench (running screws into hard yellow pine pressure treated lumber), Multi-Tool, and several drills. Same or bigger batteries fit all of them, and have never had one break on me. The nailer doesn't offer galvanized brads, but when outside I only use it to hold the board in place so I can screw (or hand nail) it in place. Have used it a lot on this project already!
Sun Joe SPX3550 Brushless Induction Electric Pressure Washer @ Sun Joe (Factory Outlet) on eBay for $113.56.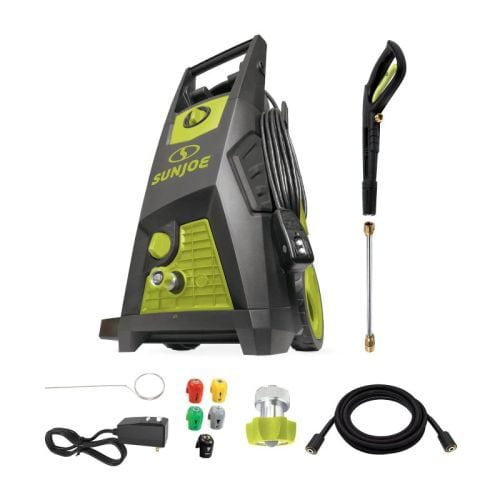 This washer was going for $229 and more everywhere else, and that outlet now has it listed for $198.78, which is still a bargain. I got good deals on all these new tools, but none were as good as this one.
Tools were a big expense, but a lot cheaper than hiring someone to do the exterior maintenance for me.
Board & Batten
(Note: I went wid the "Reverse batten" method shown above.)
Board: 5/8 in. x 6 in. x 8 ft. Pressure-Treated Pine Dog-Ear Fence Picket
Batten: 1/2 in. x 4 in. x 6 ft. Pressure-Treated Pine Wood Dog-Ear Fence Picket
A few years ago, I purchased a bunch of 5/8 in. x 6 in. x 8 ft. Pressure-Treated Pine Dog-Ear Fence Pickets fairly cheap, i.e. a lot cheaper than the $3.99 a board price now. All lumber is expensive right now, but so is everything else – Thanks Progressives! Was planning on using them to fix some rot along the bottom of the T1-11 siding in the front & rear of the 'Hut', which is located under the roof's drip edge. Have tested these fence boards on the well pump house 'n one Pole barn and they hold up extremely well without any paint or stain. Will also add them to the west side mainly for looks, and paint the 3-Gables 'n new workshop wall with a driftwood gray color.
Conclusion
Takes lots of time for a project like this, planning, shopping for prices, purchasing, storing, constructing, physical energy, etc. so I've had to cut back on blogs & blogging. Setting up a handy work area has been a huge help also, but even that required a lot of planning & work.
Going on 77 so I get tired quicker, plus it's winter here and I don't work below 65 degrees (F), so am obviously in no rush to finish. However, it is coming along nicely now at this point: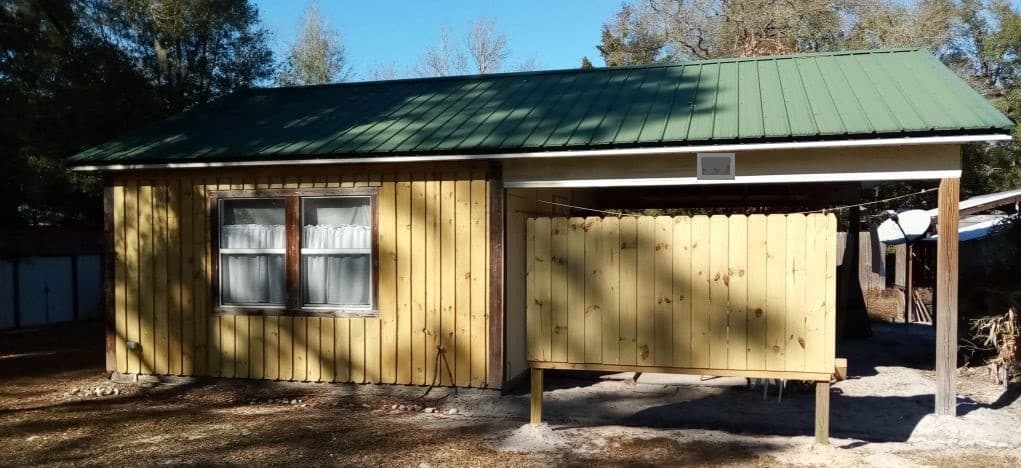 I added an 8-foot privacy barrier in front of new workshop.
Have tested lots of Linux OSes, but didn't have the energy to post a review of them, and not much energy left for any other blogging either. 🙂 The work needed to be done, and needs to be finished, so blogs & blogging were cut back; however, the initial urgency of price shopping 'n purchasing 'n fixing the front (South-side) of the 'Hut' 'n adding new workshop have all been completed…hence time for this post. 😉