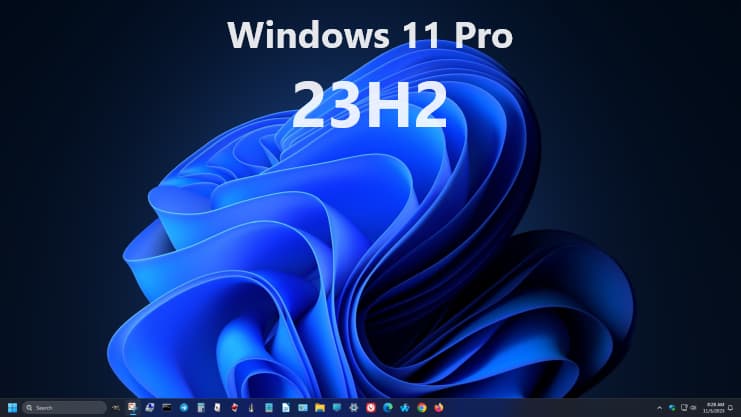 Should've made this a three 'Parter'. 🙂 Anyway, my Dell XPS 13 and three desktops I 'Built' have all been up graded to Windows 11 Pro—Version 23H2 and OS build 22631.2506.
Everything went fine – except for two minor issues. One issue was with an app, but resolved that (more on that later). The other issue was with the Create Windows 11 Installation Media that was tested (more on that later).
Windows 11 23H2 update – Dell laptop got it already post covered the standard Windows Settings > Windows Update method – when an update notice "popped up saying that the 23H2 update was ready". That update method used – 'How to get it: servicing technology (like that used for the monthly update process), providing a fast installation experience.' That method took only a few minutes—very FAST!
Windows 11 23H2 update – install it using the Installation Assistant post covered using the Windows 11 Installation Assistant method. That method was much slower than the standard Windows update delivery—taking between 35-45 minutes on different desktops, and at different times. ISP connection speeds could make the method faster or slower, but still not as fast as the standard delivery.
I had a really old Windows 7 games for Windows 10 app that was giving me two issues: 1) the app wouldn't make it thru the 23H2 upgrade, so it needed reinstalling. 2) reinstalling it gave an 'Error opening file for writing: C:\Windows\System32\en-US\cmncliM.dll.mui' message, but it would install if you selected "ignore" the message option.
After a little search I found the Windows 7 Games for Windows 11 and Windows 10 page, which gave me the updated Windows7Games_for_Windows_11_10_8_zip file. No issues or error messages with that one.
All my other apps and settings seem to be fine.
I like to keep an updated USB for installing Windows and/or in case any issues show up and/or if I want to do some tests. The Create Windows 11 Installation Media tool creates a bootable USB for you.
Went to test it on a 'Test' computer, and durn 'Thang had installed the 22H2 version – Wakey Wakey Microsoft!!! 👎😉 That's on the "(Current release: Windows 11 2023 Update l Version 23H2)" Windows 11 Download page!?!
OK – someone is slow at doing their high paying Microsoft job or they are just unable to do the job correctly. Wasted my time… 👎👎👎 I may try it again at a later date.
Still needed an updated Win11 Pro USB, so I downloaded the Win11_23H2_English_x64.iso @ 6.24 GB, from the Download Windows 11 Disk Image (ISO) for x64 devices section.
Used Rufus to create the bootable USB, and then tested it on a new installation. That worked great, and went faster than the iso download took. 👍👏👌🙂
Conclusion
Couple of handy links:
Can never say enough about the excellent job that Microsoft's Satya Nadella has done for them and Windows users.
My upgrades were done on four computers—a Dell XPS 13 and three home built desktop computers. Other than the old Windows 7 Game app, the upgrades went incredibly smooth.
Probably hold off for a few more days before trying the Create Windows 11 Installation Media method, until the person responsible for that time consuming disaster gets demoted or fired. 🙂