Budweiser — "This Bud's for you." Bud Light — 'This Bud's for Dylan Mulvaney'?!?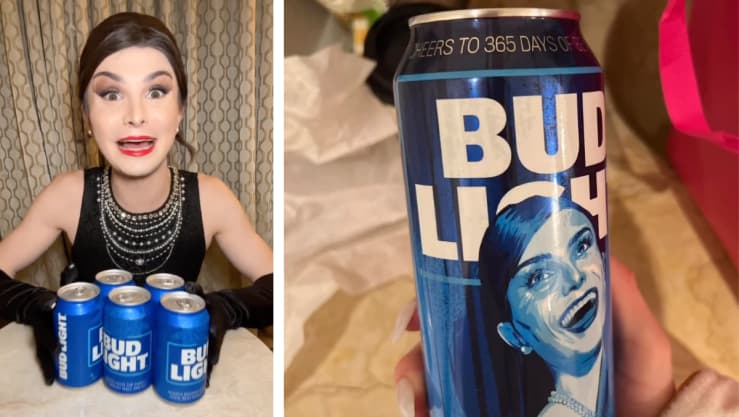 I quit drinking in 2006, and Bud was my favorite beer at that time — tho I never cared for the Bud Light. If Budweiser had made this Transgender move back in my drinking days then I would've stopped drinking sooner — or moved to another beer brand.
Dylan Mulvaney
Dylan Mulvaney is another Progressive Democrat in the Democratic party's 'War on Mother Nature'. They actually believe they are superior to Mother Nature & Planet Earth!?!
Dylan Mulvaney (born December 29, 1996) is an American actress and comedian known for detailing her gender transition in daily videos on the social media platform TikTok since early 2022. In October 2022, Mulvaney met with president Joe Biden at the White House for an interview for the social-media news organization NowThis News.

Snip .. Mulvaney came out as a trans woman during the pandemic, while living with her "very conservative family" at her childhood home in San Diego. She began to document her gender transition in a daily series of videos published on TikTok titled "Days of Girlhood" in March 2022, and her videos began to gain in popularity.
Dylan Mulvaney & Bud Light
'The weirdest thing I've ever seen': Bud Light sparks backlash after partnering with controversial trans poster girl Dylan Mulvaney – and even prints her face on a beer can:
Bud Light is under fire for partnering with controversial trans influencer Dylan Mulvaney, who uploaded a sponsored post for the beer company.

Mulvaney announced the partnership in a series of videos posted to social media at the weekend to coincide with the NCAA March Madness tournament.

The influencer even boasted how the brewer sent her a beer can with her face printed on it.

'Happy March Madness!! Just found out this had to do with sports and not just saying it's a crazy month!' Mulvaney wrote on Instagram.

The gimmick was to honor the trans activist's first full year of being an openly transgender woman.

Mulvaney's announcement has faced backlash in some quarters with Twitter users describing the ad campaign as 'gender propaganda'.

Conclusion
Sorry, Budweiser 'n other Progressives, but I'm on Mother Nature's side in your 'War on Mother Nature' — please don't stand next to me…