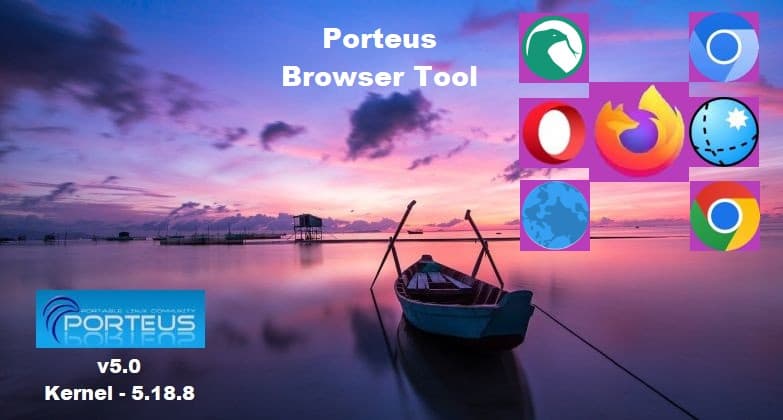 Am closing down my old Linux Newbie – since 1996 WordPress.com blog (is Private now), and am in the process of refreshing and moving some of the content over to my self-hosted KM&T (Karmi's Musings & Tech) blog here. Moving and/or Transferring content requires editing and such, so some do not 'Flow' as well as the original did.
This is Part 4 in the Porteus v5.0 series that I am transferring here. The series was sorta geared towards MS Windows users, but still mindful of interested Linux users. Porteus is plenty stable enough for even newbie MS Windows users to thrash 'n hack around in without breaking everything…in most cases. 😉The series is now being located HERE.
Porteus Browser Tool
Porteus is a portable operating system based on Slackware. It does not require installation (see "copy and/or drag 'n drop" in Part 2) and can be run from fixed and removable media, such as a USB flash drive or compact disc. It is light in weight with just a 359 MB iso and extremely fast.
Porteus is 'modular in design' (a concept I'm still learning) – What are Porteus Modules?:
Instead of the traditional style of downloading a program and installing it, Porteus uses a file called a module which you activate (install) or deactivate (uninstall). Modules are similar to zip files in that they are compressed and they can contain multiple files and directories. The file extension of Porteus modules is xzm. To activate a module you simply double click on it and it will be injected into the Porteus directory structure and all of the required files will be put in their place. To deactivate the module just double click on it again and all the files will be removed from the directory structure and packed back into the module. This makes installing applications very simple and you don't clutter up your computer with thousands of rarely used files.
Porteus v5.0 doesn't come wid a Browser; however, they offer a choice of seven browsers…tho Firefox is one choice, it comes wid four browser options of its own – SERVER, ESR, CURRENT, and BETA versions. I used the "Server" option back on 3/31/2022, but went wid the "Current" version for this post. I suspect the other six choices work about the same, but haven't tested any of them this time. Both the server & current versions end up as Modules.
Browser Selection and Update Tool:
Browser Selection and Update Tool is located under Internet…click on it to open the Porteus Browser Tool: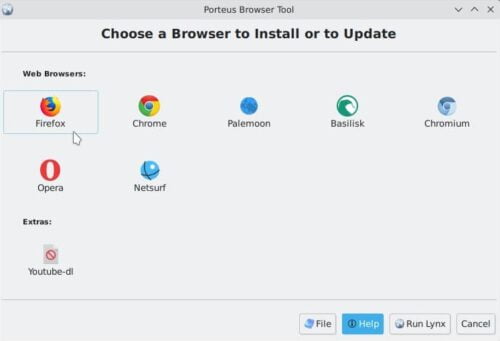 I only tried adding Firefox during both tests – server & current versions. Clicking on Firefox brings up the automated Porteus Terminal: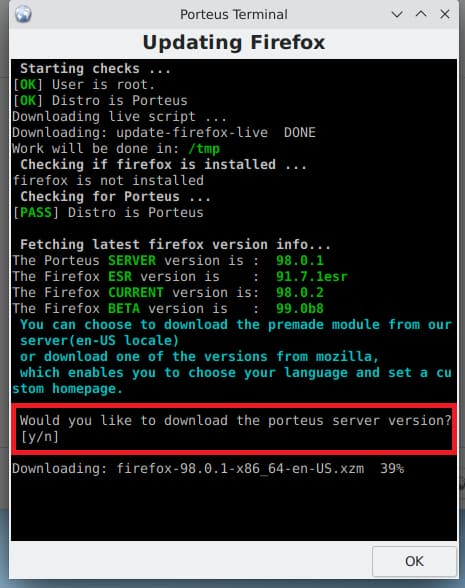 I selected "y" the first time, for server version. Selected "n" this time, for current version (I like it better). (NOTE: The server version is premade in the "en-US" language.)
Selecting "n" brings up these choices:
I enter "2" for the current version and that brought up this:
It asks if I want to download the firefox-102.0.1 version (Note: this post from 2022) – selected "y" which brings up this:
Language – I entered "23" for en-US.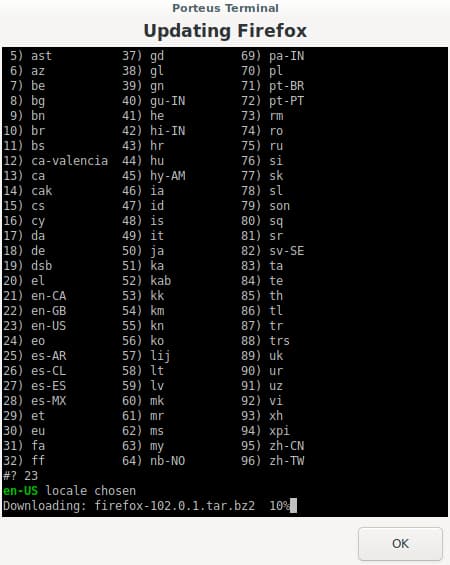 It starts downloading firefox-102.0.1.tar.bz2 (Old 2022 file) – OH NO, A TAR BZ2 FILE…HEEEELLP!!! 😉 Just kidding. It will be a module when Porteus gives it to us.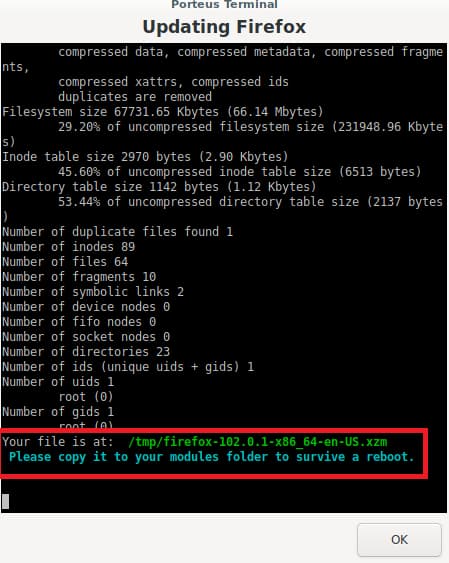 Download complete…make sure you remember that it is in the /tmp folder!
Now, we move it to the modules folder: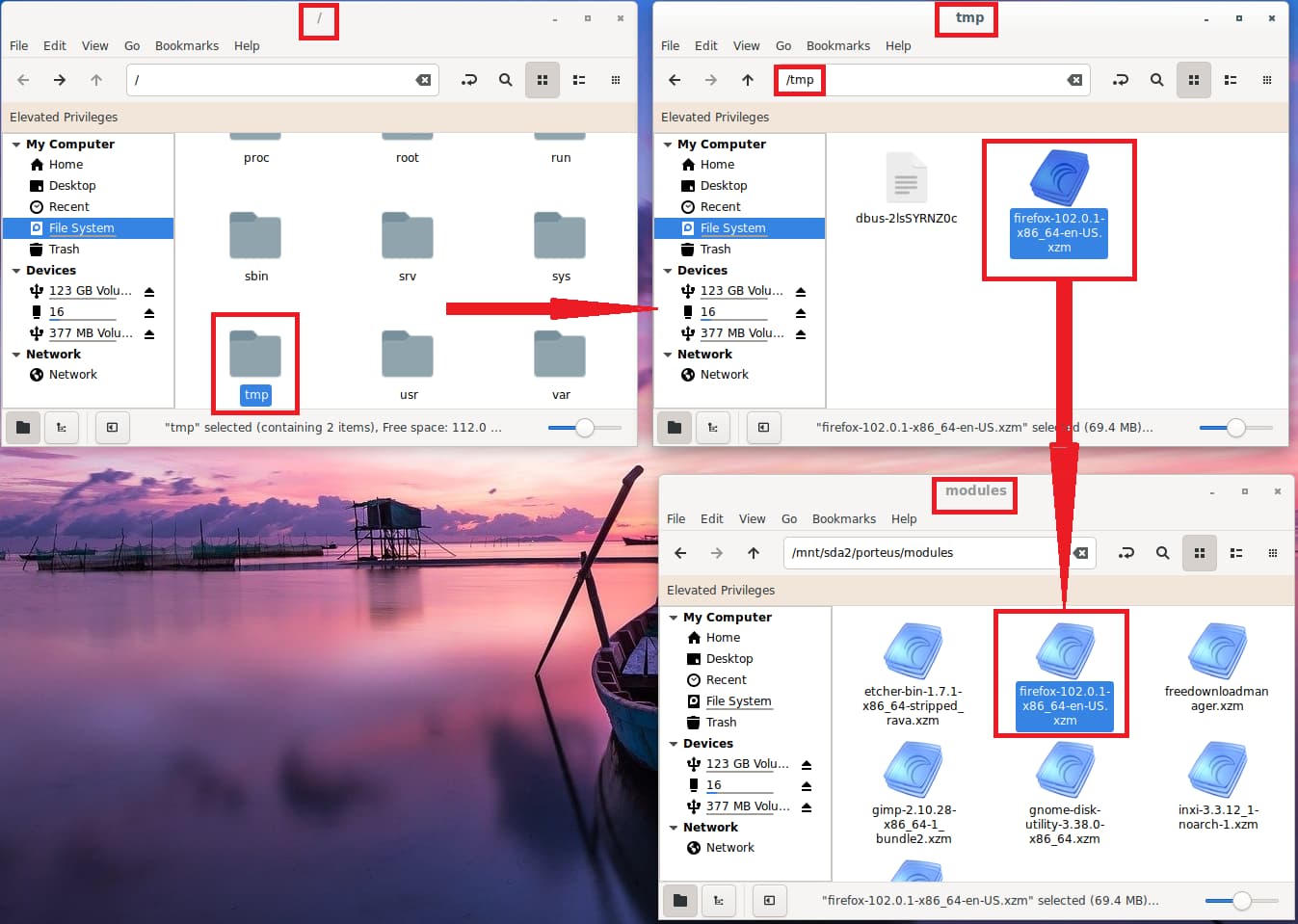 open "File System" folder ("/") – tmp folder is in it.
Click on the tmp folder to open it in a new window – 'Thars the firefox-102.0.1-x86_64-en-US.xzm module (already created for us)! – \o/ 'Hippity hip Hoorah' \o/ – Oh, for this post I had also better open the porteus modules folder in a new window. OK, now we can copy and/or drag 'n drop it into the porteus modules folder, I then click it to activate it, and reboot. However, I read today that the modules folder will automatically activate the module, during a reboot, if the module is in the modules folders. Yes, I am still learning about Porteus Linux…I make mistakes all the time, but Porteus v5.0 keeps covering for humble me.
Conclusion
See how easy modules are to work with! I have another 2 posts for this series, and will try to cover the modules process a little more.
OK…we now have a Browser, and I believe I will get the LibreOffice office suite module next. 🤔 Don't worry MS Windows users, LibreOffice is free, and I even use it on all my Win11 Pro machines.
…to be continued.