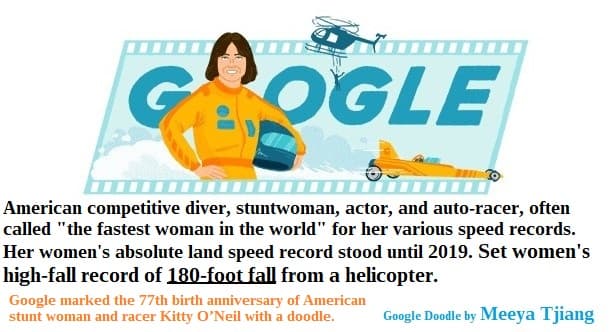 Back in the days, long before the Woke Progressive Democrats became unable to Define What a Woman is, America had some really really amazing women.
Now, thanks to our Woke Progressive Democratic Party 'n their MSM puppets — American Woman are having to 'Play Second Fiddle' to Trans women (a trans woman or a transgender woman is a woman who was assigned male at birth).
I don't normally check what a Google Doodle is about, even tho Google is my Homepage for Firefox, but the doodle by Meeya Tjiang caught my eye today.
Kitty O'Neil
As a teenager, Kitty O'Neil was a 'competitive 10-meter platform diver and 3-meter springboard diver, but after recovering from meningitis, she lost interest in diving, and turned to water skiing, scuba diving, skydiving and hang gliding, stating that diving "wasn't scary enough for me"':
Kitty Linn O'Neil (Corpus Christi, March 24, 1946 — Eureka, November 2, 2018) was an American competitive diver, stuntwoman, actor, and auto-racer, often called "the fastest woman in the world" for her various speed records. Her women's absolute land speed record stood until 2019.

An illness in early childhood left her deaf, and more illnesses in early adulthood cut short a career in competitive diving. O'Neil subsequently moved into car racing and became a pioneering woman in the stunt industry in Hollywood. She appeared in numerous television and film projects, lent her likeness to an action figure, was honored at the 91st Academy Awards, and in March 2023 with a Doodle in the Google search.

Snip .. John O'Neil, her father, was an officer in the United States Army Air Forces, who had been an oil wildcatter. He died in an airplane crash during Kitty's childhood. Her mother, Patsy Compton O'Neil, was native Cherokee. At five months of age, O'Neil contracted simultaneous childhood diseases, losing her hearing.

Snip .. By 1970, O'Neil had taken up racing on water and land, participating in the Baja 500 and Mint 400. She met stuntmen Hal Needham and Ron Hambleton while racing motorcycles, and lived with Hambleton, giving up racing for a time. In the mid-1970s, she entered stunt work, training with Needham, Hambleton and Dar Robinson. In 1976, she became the first woman to perform with Stunts Unlimited, the leading stunt agency. As a stuntwoman, she appeared in The Bionic Woman, Airport '77, The Blues Brothers, Smokey and the Bandit II and other television and film productions. In 1978, her stunt career inspired a Kitty O'Neil action figure, made by Mattel.

In filming for a 1979 episode of Wonder Woman, O'Neil was hired to perform a stunt of high difficulty for Jeannie Epper, Lynda Carter's usual stunt double. In the process, she set a women's high-fall record of 127 feet (39 m) at the 12-story Valley Hilton in Sherman Oaks, California. She credited her small size, at 5′-2″ and 97 pounds (44 kg), for allowing her to withstand impact forces. She later broke her record with a 180-foot (55 m) fall from a helicopter. In 1977, O'Neil set a women's record for speed on water of 275 miles per hour (443 km/h), and she held a 1970 women's water skiing record of 104.85 miles per hour (168.74 km/h).

Snip .. On 6 December 1976, in southeastern Oregon's Alvord Desert, O'Neil set the land-speed record for female drivers. She piloted a $350,000 (equivalent to $1.7 million in 2021) hydrogen peroxide powered three-wheeled rocket car built by Bill Fredrick called the "SMI Motivator". It reached an average speed of 512.710 mph (825.127 km/h), with a peak speed of 621 miles per hour (999 km/h).
Google's Doodle Kitty O'Neil Tribute
Google celebrates 77th birth anniversary of American stunt woman and racer Kitty O'Neil with a doodle:
Google marked the 77th birth anniversary of American stunt woman and racer Kitty O'Neil with a doodle. Kitty O'Neil was known as the 'fastest woman in the world' and also was part of several films and TV series as stunt double. O'Neil was deaf since childhood, but did not let the disability come in the way of her ambitions. The doodle has been illustrated by Washington DC-based, deaf guest artist Meeya Tjiang.
Conclusion
I'll add a 'Famous American Women' category — 'n probably make a sorta series 'Thangie on "Famous American Women" and/or a WP Page for that subject. 🤔