'Paper Bear' Putin's first 'n only visit to Ukraine during his reinvasion of that country was far from any fighting, and was done like a 'Thief' under the 'cover of night' in the city of Mariupol.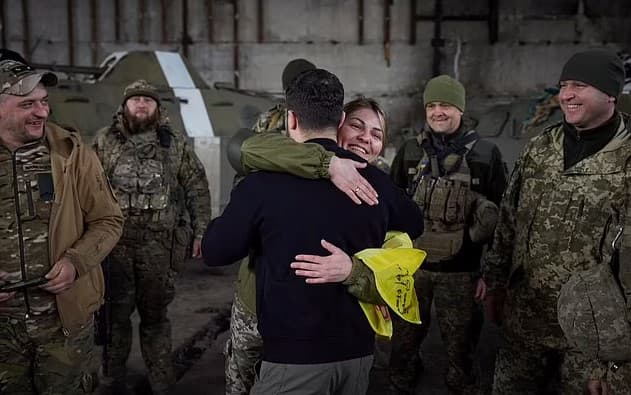 Zelensky heads to the frontline: Ukrainian leader embraces troops and meets wounded soldiers in hospital on surprise visit to Bakhmut warzone…as Russian missiles hit civilian targets. Unlike 'Paper Bear' Putin, President Volodymyr Zelensky visited an actual frontline of this war, i.e., the city of Bakhmut, during broad daylight. Quite the contrast of wartime leaders, huh. Russia has been trying to capture Bakhmut since may of 2022, and it has been the bloodiest battle of this war.
Ukraine's President Volodymyr Zelensky today made a heroic surprise trip to greet troops on the frontline of the war-torn city of Bakhmut, the scene of the longest and bloodiest battle since Russia's invasion.

The devastated city in the east of the country in the Donbas region has become a symbol of Ukraine's dogged resistance against Vladimir Putin's forces.

Despite the brutal conflict, it was all smiles as Zelensky embraced and greeted troops and met with those that had been wounded in the war. He awarded military decorations and thanked troops for defending Ukraine's sovereignty.

The visit by the Ukrainian president proved a stark contrast to that of the Russian president who visited the city of Mariupol under the cover of night over the weekend. It was Putin's first visit to any Russian-occupied part of Ukraine's industrial Donbas region since the war began, and the closest he has actually been to front lines.
Some have suggested that Putin had actually sent a "body double" into the city of Mariupol…