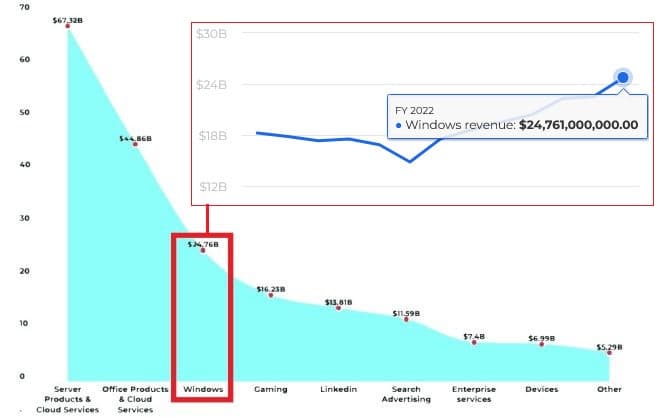 Microsoft's FY 2022 revenue for Windows was a staggering $24,761,000,000.00 (almost 25-Billion dollars). About 1.6-Billion people use a MS Windows OS.
Is Microsoft willing to cut about $25-Billion in revenue each year, or would they rather keep that revenue and focus on 'Growth' with an eye towards new revenue sources?
Is Microsoft willing to lose a huge chunk of those 1.6-Billion Windows users by forcing them all to use a Microsoft Windows OS subscription?
Under Nadella, Microsoft revised its mission statement to "empower every person and every organization on the planet to achieve more". He orchestrated a cultural shift at Microsoft by emphasizing empathy, collaboration, and 'growth mindset'. He has transformed Microsoft's corporate culture into one that emphasizes continual learning and growth.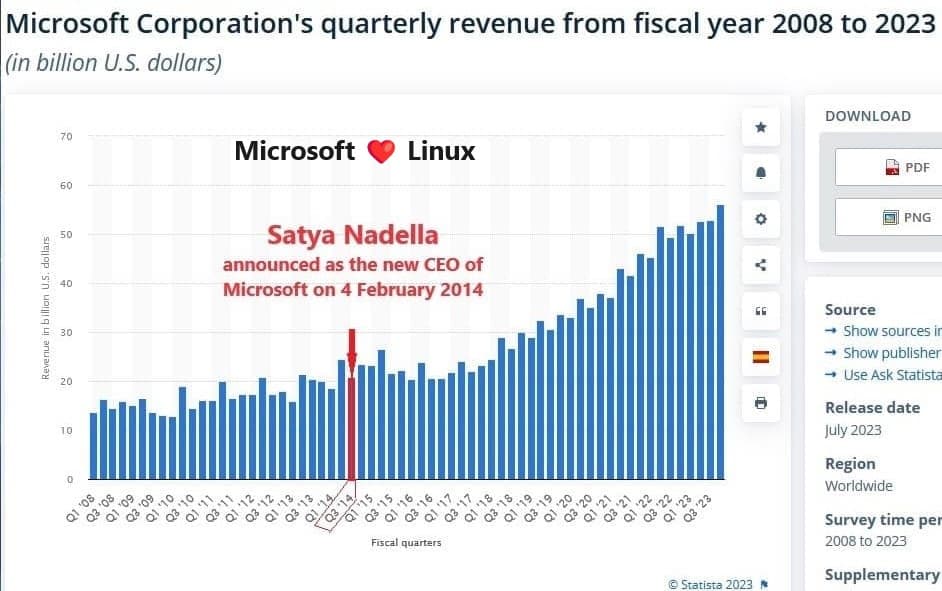 One doesn't focus on 'Growth' by cutting $24,761,000,000.00 in FY revenue. 🙂 One doesn't focus on 'Growth' by forcing a large & loyal user base to start paying a subscription fee for use of one's product.
Where do Subscription 'Rumors' come from?
Overpaid Tech writers desperately seeking hits/views for their articles, IMHO. Here's one example:
Oct 5, 2023 – Microsoft might want to be making Windows 12 a subscription OS, suggests leak
OK, some people probably actually read beyond that "might want to" & "suggests leak" so here is a snippet from article:
While this has been a hunch for a while among the Windows enthusiast community, a new leak seems to be further providing somewhat solidifying evidence that it could indeed be the case, that Microsoft's next-gen OS, casually referred to as Windows 12, could be a subscription-based OS.
Well, anyone wanting to read further after that first paragraph, with "this has been a hunch" & "somewhat solidifying evidence" & "it could indeed be the case" & "could be a subscription-based OS" – is more desperate for something to read than the desperate Tech writer was in writing it. Jeez!? 🤔
Hold on, there's more:
Microsoft might want to be making Windows 12 a subscription OS, suggests leak [Update]
October 6 Update: A newly published report has clarified that the discovered code bits are likely not related to Windows "12." Also, the next-gen Windows version is unlikely to require a subscription.

Original article below.
That link in the [Update] article leads to this one:
Oct 6, 2023 – A new report denies rumors of a subscription-based Windows 12
Yesterday, we published a story detailing the possibility of Microsoft making the next-generation Windows release a subscription-based operating system. Code change in Windows 11 version 23H2 from the Release Preview suggested that Windows "12," or whatever Microsoft plans to call Windows 11's successor, would be available as a subscription, like Microsoft 365, Xbox Game Pass, and other services. As it turns out, those assumptions are likely false.

Windows Central published a new report, shooting down rumors about a Windows "12" subscription. According to their information, the discovered code bits are unrelated to the next Windows client version, expected in the second half of 2024. Instead, that code references the recently spotted Windows 11 IoT Enterprise Subscription.
You can't make this stuff up. 🤔👎
Conclusion
After 'Doing the Math' & a brief research of Satya Nadella – it should be obvious that Microsoft has no plans to dump Window 11 (or any future Windows OSes) for a forced subscription OS.
Sure, a subscription Windows OS, as an option for further 'Growth' of Microsoft—as long as Satya Nadella is in control, certainly seems plausible.
BTW, Windows 10 was released to retail on July 29, 2015, and rumors about 'Microsoft going to start charging subscription fees' started almost immediately afterwards. Ed Bott cleared it up on Feb. 6, 2016 with this – Windows 10 subscriptions aren't happening. Here's why:
Yes, Microsoft's cloud-first business model provides lots of opportunities for them to sell software as a subscription. But Windows 10 isn't going to be on that list.