The VELOCIFIRE Wireless Mechanical Keyboard TKL71WS 71-Key Tenkeyless Brown Switches Compact Gaming Keyboard with Ice Blue Backlit for Copywriters, Typists, and Programmers is the best keyboard I've ever owned, and just purchased a second one for only $25.99.
Couple years ago, I had grown tired of the big old Full-size Wireless Microsoft or Logitech no backlit squishy keyboards that I had been using for decades, and decided to test some new ones. Had never had a backlit keyboard, and was having to grab a light too often to see where a key was, even when a small desk lamp was on.
WOW!!! Can't believe it took me that long to get a backlit keyboard!? Am no gamer, so was wanting to avoid one with flashing lights. Desktop space was also important—especially the Prime Desktop Real-estate area under and in front of the display (I use gas spring arms for displays).
So many choices!?! Ended up buying four to test. Liked the VELOCIFIRE Wireless Mechanical Keyboard, TKL02WS 87 Key w/ white light the best for over a year, but the nice soft blue light from the TKL71WS kept calling me – it looked so small though, and where were all the keys!?!
Then again, the TKL71WS was not only incredibly lightweight compared to the ship anchor weight of the TKL02WS, but its footprint didn't require much Prime Real-estate area.
Fn+Ctrl gave me the F-keys. Fn+Pause gave me a great print-screen (w/ great options!). Fn+Ins got rid of the Side lights for me.
I do some Linux & various hardware testing on two other computers ('Rose' & 'Frank') that share everything on a converted mobile cart, so got this new TKL71WS for those, and as a backup for the first one on my main computer. Here's the conversion: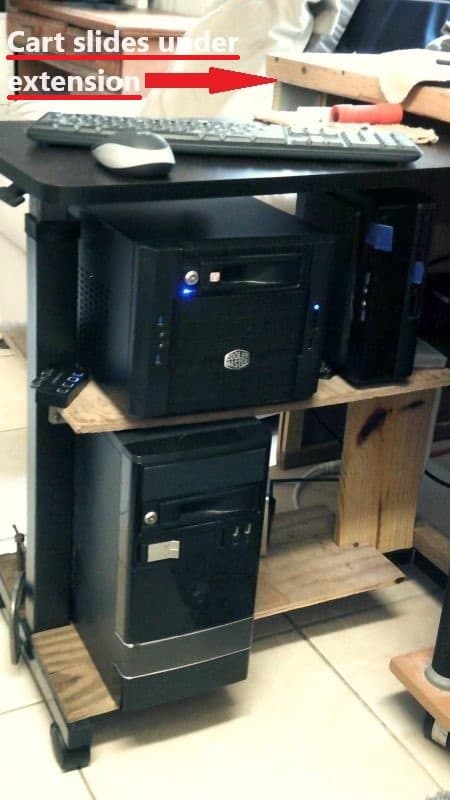 I had added an extension to my desk – which allows the converted cart to be rolled out when needed, but computers can also be turned on whilst underneath the extension.
Some info:
Double USB METHOD

The smart charging system allows to conduct charging and connect typing simultaneously. USB-C interface with no driver required. Charge with a 5V/1A charger (Not Included), or charge it while a computer is turned on. 100% compatible with Win XP/Vista/Win7/Win8/Win8.1/Win10/Linux. (NOTE: I plug it in every day for a few hours whilst watching Blu-rays or DVDs and then unplug it)

UNIQUE COMPACT SIZE & CUSTOM BACKLIT

The 71 keys compact layout makes it ideal for home, office, and travel. Wireless design makes it exceed the space limitation, and free you from the desktop. Press FN+END to customize any backlit mode you like.

TKL71WS Wireless Mechanical Keyboard: Make Typing Better

Delivering Pro Features in a Compact 71-keys space-saving design, make you enjoy your working. Velocifire TKL71WS Wireless Mechanical Keyboard features brown switches, which have a soft tactile bump for feedback with every key-press, offering the best tactile typing experience. scientific stair-up keycap design brings maximum comfort, keeping your hand in the most natural state to minimize hand fatigue after longtime use and help you minimize typos. So it's designed for office workers, copywriters, programmers, Typists, and editors.
Conclusion
Am no expert on keyboards, also a very slow two-fingers typist, but this has turned out to be the best keyboard I have ever used—hence now owning two. 👍🙂👌
The soft blue lighting is much easier on my eyes than the white light on my other tested keyboards.
Lighting was easy for me to adjust—it comes with a small handy manual that has been very helpful.