I'm no musician, but it is easy to see that Sophie Lloyd can seriously play the guitar. I almost tried to fool any readers by putting up the following picture as the Featured image for this post, wid this title instead – 'Guess what this Woman does for a Living?':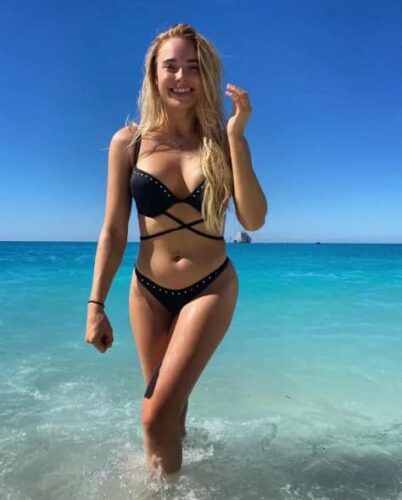 However, if you listen to her playing, then you would know that she is a Professional 'n *EXTREMELY* Accomplished Musician 'who has been needlessly dragged into the media based off of meritless accusations made by social media.' Decided to just let guitarist Sophie Lloyd 'speak for herself'…so to speak.
As mentioned, I am no musician, but have seen 'n heard some of the best ever perform, and Sophie Lloyd could play along wid any of them, IMHO.
Decide for yourself – here's her YouTube channel: Sophie Lloyd
BIOGRAPHY
Sophie Lloyd is one of the most prolific guitarists on the world wide web, a trailblazer who is redefining the concept of a "bedroom" guitarist. A talented composer and accomplished musician, Sophie graduated from the prestigious BIMM in 2018 with a First Class Honours BMus in Popular Music Performance, honing and refining a talent she has nurtured since childhood.
(besides not being a musician, I also don't understand most terms about musicians or music, e.g., what the heck is a "bedroom" guitarist!?! 🤔 Lots of various definitions, involving more musical terms I didn't understand (e.g. shredleys, shred & shredding), but I liked this one best: 'Bedroom shredder – Someone who practices guitar in his bedroom with little or no desire to join a band. Usually these types have MAD chops as a result of sitting in their rooms, practicing for hours upon end.')
Since then, she has amassed the kind of following that even the guitar gods she grew up idolising would be envious of, with a reach surpassing 2.5 million followers across her social channels, built through a steady stream of sharing her talent via guitar "shredleys", covers and her own original material.

In search of a platform and community where she could share her material and meet other like-minded musicians, Sophie took to YouTube, enabling her to start building an audience of both fans and contemporaries. Nearly 100 Million views later, it's safe to say that turned out to be a very good decision.

Most recently, Sophie could be seen shredding on stage as guitarist for multi-platinum recording artist Machine Gun Kelly on his recent Mainstream Sellout World Tour, which included sold out shows at legendary venues such Madison Square Garden in New York and Wembley Arena in London.
Conclusion
What else can I say? 😉 Will end wid two of my favorites…
1) Bon Jovi – Living On A Prayer (SHRED VERSION):
2) Last one shows her fingers working, which I 'tHiNk' is called shredding (?!?) – AC/DC – Thunderstruck (SHRED VERSION):