The Kremlin is desperately trying to depict 'Paper Bear' Putin as a "competent wartime leader," an impossible task after his massive invasion of Ukraine failures, as the continued defeats & huge Russian losses mount up.
The Kremlin's desperation is so 'Thick' now after 10-months of war, world standing, and economic losses that Putin recently took part in the launching of a turkey breeding centre in an attempt to depict him "as a leader in touch with the Russian people."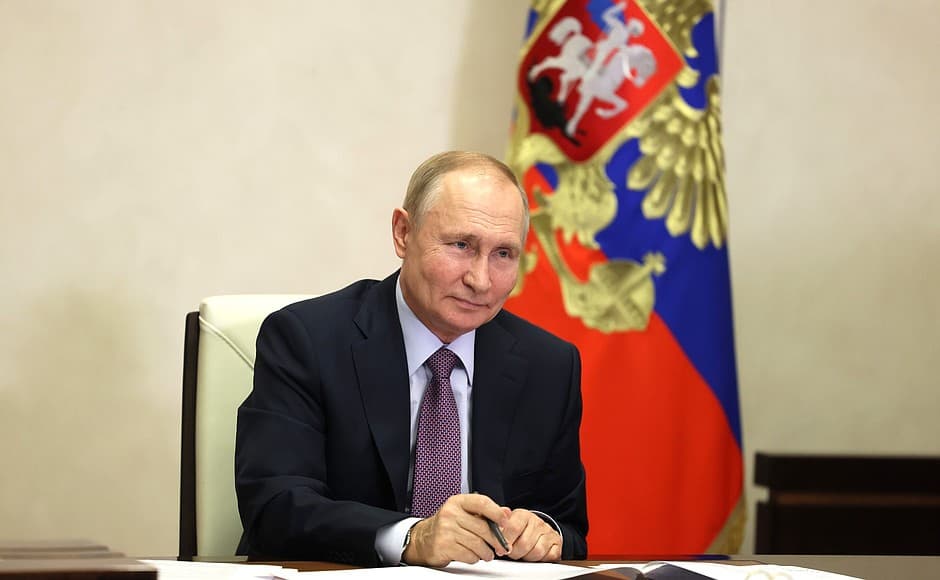 New turkey breeding centre launched in Tyumen Region
President of Russia Vladimir Putin: Good afternoon, colleagues, hello to everyone.

It is no secret that today the entire country is dealing with the issues that we consider an absolute priority. I mean the whole country. I will not go into detail about what's happening in general at this point but now we are at an event we have planned, where we deal and will be dealing only with sectoral issues. At the same time, these issues are crucial for the economy in general, for enhancing our sovereignty in vital areas like the agro-industrial complex.

Today, the first turkey breeding centre is being launched in the Tyumen Region.
Sorry, President 'Paper Bear' Putin, but the entire world now knows that you are at best an incompetent leader and totally out of touch wid the Russian people. In less than 10-months, you have gone from a respected World Leader, to become the 'Second Coming' of Adolf Hitler.
Russia's Totalitarian Crisis
'Vultures circling Putin' as despot faces 'coup' from once-loyal henchmen – Mad Vlad Putin faces pressure in Moscow as the continued failure of Russia's army in Ukraine sparked renewed rumours that former loyalists inside the Kremlin are preparing to oust him.
Russia Can Finally See That Putin's 'Days Are Numbered' – More than two decades after he came to power, President Putin's grip on the Russian people is finally starting to falter .. The war in Ukraine has opened up a credibility gap, and for the first time many Russians no longer feel they can trust what their leader is saying to them. Combined with tough economic sanctions, funds being re-allocated to the war, and conscription drives across the country, the costs of this vainglorious conquest are becoming more and more difficult to take.
Russia's Pro-War Bloggers are now running the War
When a leader is incompetent they usually bounce back 'n forth from different advisors & other sources. Putin can't seem to make up his mind if he wants the advice of his Russian Ministry of Defense (MoD) or the Russian Pro-War Bloggers. I've been watching those 'Three' for some time now, and it reminded me of the old The Three Stooges films:
'Trickle-down' Iran Crisis
I haven't been keeping up wid this situation, since I had figured the Iranian protesters would be stoned to death, hung from a crane, gassed, or all shot, which would bring an end to the protests. However, the Mahsa Amini protests have been going on since 9/16/2022, and seem to keep growing even tho the Iranian government keeps killing and/or imprisoning them!?
Here's the latest ISW take – Iran Crisis Update, December 17:
Iranian security personnel clashed with prisoners in Karaj, Alborz Province on December 17, reportedly killing one and injuring up to 100 others. A foreign-based Iranian human rights organization reported that Karaj Central Prison security personnel violently suppressed prisoners protesting inmate executions and other acts of violence, citing an informed source. The source alleged that protests erupted after security personnel transferred four prisoners to solitary confinement and intended to execute them at an unspecified time. Inmates from units two, three, and five reportedly chanted anti-regime slogans and broke doors and cameras within the prison. Prison guards opened fire on the protesting inmates in an attempt to quell the unrest, resulting in roughly 100 inmate casualties and at least one death.

The regime's violent suppression tactics suggest incompetence and mismanagement within the Karaj Central Prison. Large-scale riots are indicative of poorly-run prisons with insufficient resources. Competent prison authorities and guards should be able to control prisoners without resorting to lethal force. Losing control over a state-owned facility to this extent constitutes a significant failure of the regime, which may be struggling to handle the enormous influx of inmates it has generated by mass arrests of protesters.
Looks like the Iranian government is slowly losing control…
Conclusion
America is not perfect, but the World *KNOWS* that America has always come to the aid of those who sought freedom from oppressive Totalitarian governments like Putin's Russia & Iran.