Packages only contain "two tourniquets to stop bleeding wounds," so whoever packed these packages must believe the Russian propaganda that only a few Russian soldiers are getting killed.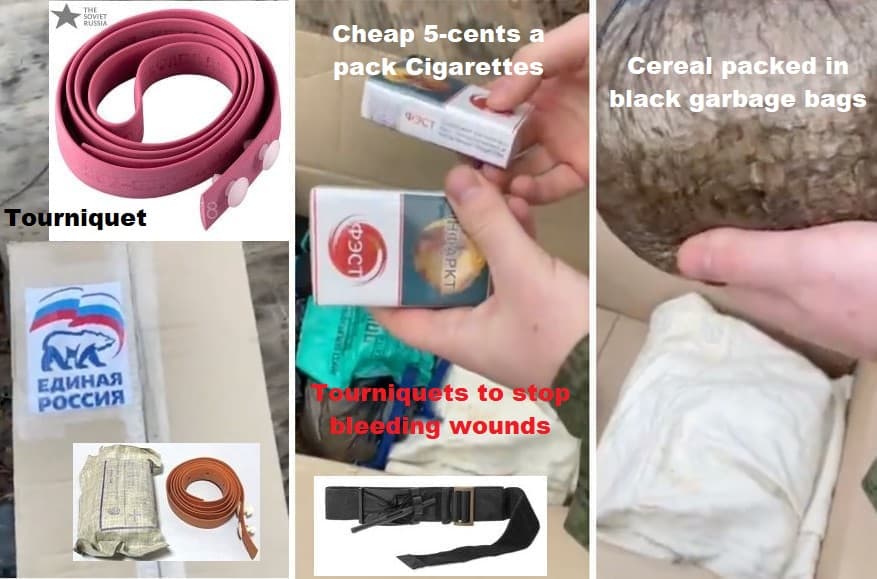 Cheap cigarettes, tourniquets, and cereals in a garbage bag: mobilized unpack New Year's gifts from "United Russia"
The gift box contains two packs of "FEST" Belarusian cigarettes, two razors, two tourniquets to stop bleeding wounds, a bandage bag, oatmeal, pasta, rice, and underwear. As seen in the video, the cereals was packed in black garbage bags. "Let's unpack. The commander told us volunteers sent us gifts for the New Year," says the soldier behind the camera. Tobacco sales websites report that FEST cigarettes in Moscow cost 30-35 roubles (close to $0.5) per pack wholesale.
The war has become very expensive for Putin, which is why the packages contain just 10-cents worth of cigarettes. Over "30%" of the entire Russian budget for 2023 is being allocated to defense spending!?!?
Putin Throwing Russians Into the 'Meat Grinder' in Desperate Bid to Win War
From what I have read, 'Paper Bear' Putin doesn't care about his own recently mobilized soldiers, so it's into that "Meat Grinder" they go until the Ukrainians run outta ammo…