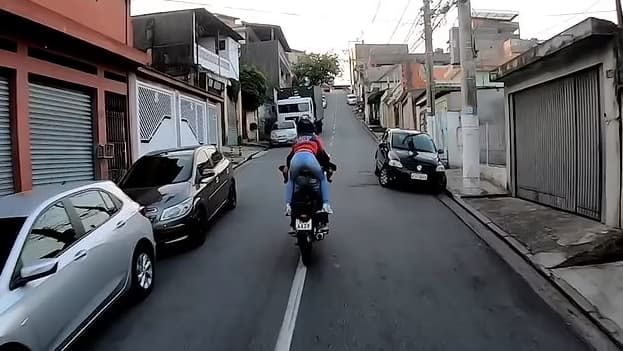 All 3 were better riders than I ever was. That female rider literally came up off that bike whilst hanging onto the driver, and did it w/o interrupting his driving.
From the Daily Mail article: The world's BEST police chase video! Nail-biting motorbike pursuit through city's narrow streets leaves viewers stunned… right up to its dramatic end:
This video may just be the most thrilling and action-packed police chase not to feature in a Hollywood movie.

This nail-biting police motorbike chase took place in the narrow streets of the Brazilian city of Osasco, Sao Paulo in 2021 and was captured by the body-camera of a motorcycle police officer.

A number of online users commented on the jaw dropping action, with one writing: 'This video is an action director's dream! I mean, even if they tried to film this sequence using multiple cameras and an entire film crew it STILL would never look this good…. and in one take is just insane.

Another said: 'This is a common day here in Brazil, unfortunately. Good thing that our police officers, especially those who are motorcyclists like those of the "ROCAM" for example, are exceptional.

'They don't rest, they chase the offender until they have an accident or simply give up the escape.'
Better than a Hollywood movie chase!