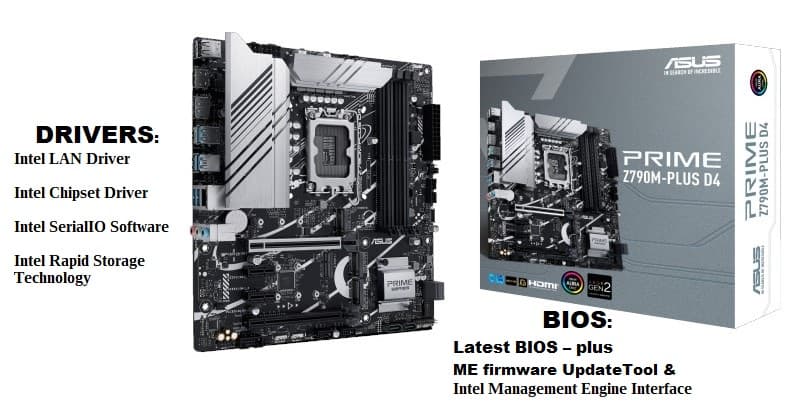 Since 2005/2006 I have purchased $60-$90 motherboards for my builds, but decided to 'splurge' on the ASUS Prime Z790M-PLUS D4 mATX MoBo – $171.89 + $12.03 Tax = $183.92.
Requirements were – Micro ATX, Intel Z790, LGA 1700, and 1Gb LAN motherboard. Have moved away from the big ATX & small ITX boards, and prefer the mATX boards and cases now—fact is, I was going to be removing (intact) an older board from my favorite case, a APEVIA X-QPACK3 mATX case, and building a new Intel® Core™ i9-13900K system in it.
I didn't find a huge mATX selection, and PCPartPicker only had TWO listed, and I went w/ the ASUS Prime Z790M-PLUS D4.
ASUS Prime Z790M-PLUS D4
It didn't come w/ a DVD drivers disc, and it took some work to get it working right.
When first attempting to install Windows, it said something about the hardware not meeting the TPM requirements!?! I went to BIOS > Advanced > PCH-FW Configuration and changed setting to enable Discrete TPM from enable Firmware TPM. I believe (??) the BIOS was outdated at that time because the default setting is enable Firmware TPM.
Anyway, Windows installed after I booted back into the installer, and I updated the BIOS soon after. The default setting stayed at enable Firmware TPM after another BIOS update also.
During installation I also discovered that the ETHERNET connection wasn't recognized, and a USB Wireless Adapter had to be added for an internet connection.
Other than those two issues the installation went smoothly.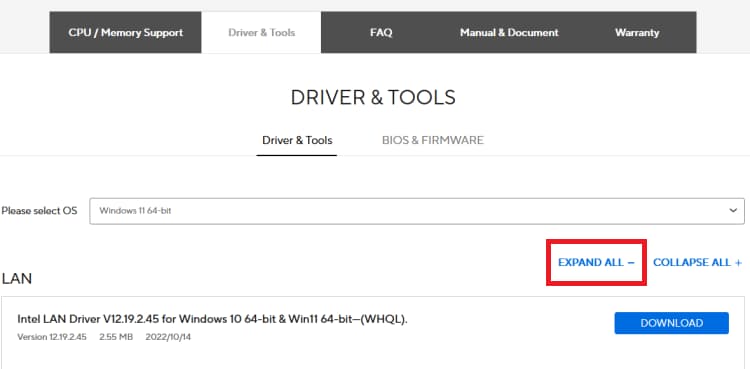 I went to the Driver & Tools support page for BIOS & Drivers. Remember to "EXPAND ALL –" in order to see the full choice of options for either Driver & Tools or BIOS & FIRMWARE.
Here is the basic order I went in:
1) Intel LAN Driver
2) Intel Chipset Driver, Intel SerialIO Software, and Intel Rapid Storage Technology
Number 3 & 4 will be needed for latest BIOS & updating MEI drivers:
3) Intel Management Engine Interface
4) ME firmware UpdateTool
I needed the Intel LAN Driver for an ETHERNET connection, so added it first. It appears ASUS is working to fix the issues for this board, since I have noticed the options changing quite often.
The Device Manager (under Control Panel) showed about six driver issues – adding the Intel Chipset Driver, Intel SerialIO Software, and Intel Rapid Storage Technology options fixed those issues.
To add the latest BIOS update I needed to add the Intel Management Engine Interface first, and then use the ME firmware UpdateTool to update the MEI driver. Then I installed the latest BIOS.
Two new 'Thangs I discovered on this MoBo – 20. Thunderbolt™ (USB4®) header:
The ASUS ThunderboltEX 4 expansion card connects to that header—tho I'll probably never buy it, but it is still early. 😉
The second 'Thang is – 8. USB 3.2 Gen 1 Type-C® Front Panel connector: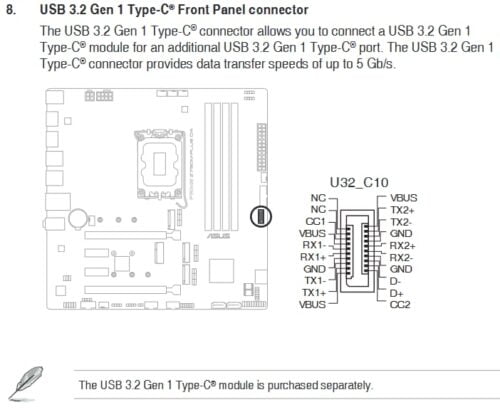 This 'Thang I really liked, and immediately purchased the EZDIY-FAB 5.25in 10Gbps USB 3.1 Gen2 Hub and Type-C Port, Front Panel USB Hub for it. Probably never use the charging ports, but I really needed a Type-C port on the front of my computer, and some fast 'n handy USB ports also. I couldn't find many options for the USB 3.2 Gen 1 Type-C® Front Panel connector, but the EZDIY-FAB will do for now. 👍
The board's connector is apparently rated at just 5Gbps, but still fast. Geez – USB 3.1 Gen1, USB 3.1 Gen2, USB 3.2 Gen1, USB 3.2 Gen2, and USB4® can get confusing!? 😕
Conclusion
See the five Part Builds & Upgrades series for how that build went.
The ASUS Prime Z790M-PLUS D4 mATX MoBo is running great now. Took a little work, but was well worth the effort. 👌👍👏