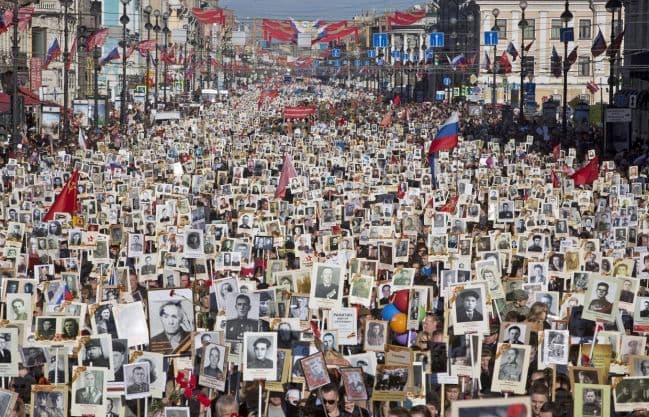 Ukraine has forced Russia to cancel the annual Immortal Regiment Victory march, and at the same time exposed 'Paper Bear' Putin as the weak and foolish leader that he is. Putin reinvaded Ukraine, foolishly believing that he controlled a world 'Super Power' military, and the results in the first year have been devastating for Russia — Ten's of Thousands of Russian Troops have been killed, and Ten's of Thousands more are now crippled for life.
Russia Scraps WWII Remembrance March on Security Concerns:
Russia on Tuesday canceled annual processions in remembrance of relatives who fought in World War II amid apparent security concerns linked to the fighting in Ukraine.

Millions of people across Russia traditionally march in the Immortal Regiment processions on May 9, the annual holiday commemorating the end of World War II, holding placards of relatives who lived and died during the conflict.

Yelena Tsunayeva, a federal lawmaker and co-chair of the Immortal Regiment of Russia organization's central headquarters, said Tuesday that the 2023 marches had been called off.
Russia is also trying to hide the huge numbers of Russian Troops killed in Ukraine, and also as 'an effort to reduce public discussion of deaths in the current conflict'.
Putin-Led WWII March in Moscow Canceled Amid Counteroffensive Fears:
The nixing of the face-to-face "Immortal Regiment" march comes amid reports that the nation's major national event Victory Day event, which is scheduled to take place May 9 and celebrates the Soviet Union's role in defeating Nazi Germany, may be canceled or downsized in certain regions including Crimea, Kursk and Belgorod due to ongoing security concerns resulting from the war with Ukraine.
Even the Russian infamous Victory Day — 'commemorates the Soviet victory over Nazi Germany in 1945' — "may be canceled or downsized" due to 'Paper Bear' Putin's weak and foolish leadership.
Putin Mocked for 'Embarrassing' Cancellation of Victory Day Parade:
Russian President Vladimir Putin is being mocked after national military parades scheduled to take place next month are being canceled due to reported military shortcomings in the war against Ukraine.

The annual celebration, originally intended to take place on May 9, is typically Russia's method of marking the Soviet Union's role in defeating Nazi Germany during World War II—known in Russia as the Great Patriotic War. Events are spread nationally, with the biggest event taking place in Moscow's Red Square and consisting of a march-past of troops accompanied by a display of Russian military hardware.
If the Russian people don't get rid of Putin 'n his cronies soon, it will be too late for them to regain the freedom recently taken from them by Putin, and Russia will never be trusted again…