Looks like Russia is 'running out of gas' all over Ukraine, but especially in 'n around Bakhmut, which has been a main focus of Russia for a long time. Open Source sites are picking up lots of Russian worried 'Chatter' about the pending Ukrainian counteroffensive in the Bakhmut area, as well as talk that the Russian offensive appears to have 'ran outta gas/energy/ability'.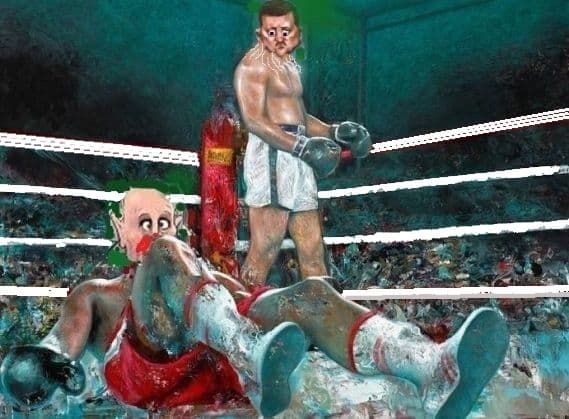 Of course, Mr. Foreman was still a lot smarter than Putin 'n all his Russian cronies put together, but during 'The Rumble in the Jungle' even he fell for Ali's 'Rope-a-dope' technique:
Putin was wrong about his initial reinvasion of Ukraine only lasting a few days before all of Ukraine fell to him, and now he talks about Russia's war in Ukraine could be 'long-term process'.
Long-term? Long-term!?! It is starting to look like Round 8 of Foreman vs Ali fight for Russia ('Foreman'), IMHO.
Russian Offensive Campaign Assessment, March 19, 2023:
This report discusses growing Russian concern about a prospective Ukrainian counteroffensive near Bakhmut or in southern Ukraine, and Russian efforts to prepare mitigations for these claimed efforts. The tempo of Russian offensive operations across the theater has slowed in recent weeks, suggesting that the Russian spring offensive in Donbas may be nearing culmination .. Snip .. Russian President Vladimir Putin used his first visit to recently-occupied Ukraine to portray himself as an involved wartime leader amid exaggerated responses in the Russian nationalist information space over fears of a possible future Ukrainian counteroffensive in southern Ukraine.

Snip .. A prominent Russian milblogger claimed that Ukrainian forces are currently capable of intensifying counterattacks to stabilize the front line around Bakhmut. The growing Russian discussions about an imminent Ukrainian counteroffensive in the Bakhmut area suggest that Russian sources are increasingly uncertain about the Russian military's ability to maintain the initiative around Bakhmut.

Snip .. Ukrainian Eastern Group of Forces Spokesperson Colonel Serhiy Cherevaty stated on March 19 that Russia was unable to gather sufficient forces for the anticipated major offensive in Donbas and noted that current Russian offensive actions cannot be called a "major strategic operation." Cherevaty emphasized that Russian forces cannot even complete the tactical capture of Bakhmut, which supports ISW's assessment that the Wagner Group offensive near Bakhmut is likely nearing culmination. Russian forces are also notably struggling to secure operationally significant gains elsewhere along the frontline, particularly in the Avdiivka-Donetsk City and Vuhledar areas.

Snip .. The overall Russian spring offensive is thus likely approaching culmination. Ongoing Russian offensives along the Svatove-Kreminna line, around Bakhmut, and along the Avdiivka-Donetsk City and Vuhledar frontlines have failed to make more than incremental tactical gains in the first few months of 2023. Russia has committed the approximately 300,000 mobilized soldiers, called up by partial mobilization in September 2022 for the purpose of pursuing exactly such a spring offensive, to these various offensive efforts. If 300,000 Russian soldiers have been unable to give Russia a decisive offensive edge in Ukraine it is highly unlikely that the commitment of additional forces in future mobilization waves will produce a dramatically different outcome this year. Ukraine is therefore well positioned to regain the initiative and launch counteroffensives in critical sectors of the current frontline.
NATO needs to speed of their arms shipments to Ukraine now, before Russia has a chance to 'Catch their wind'. Apparently China's Xi Jinping is in Russia now wid a bogus "Peace Plan" in an attempt to give Russia more time to rebuild their military so they can eventually defeat Ukraine.
Time for Ukraine to strike hard 'n reclaim all of the land Russia has stolen and/or tried to steal…