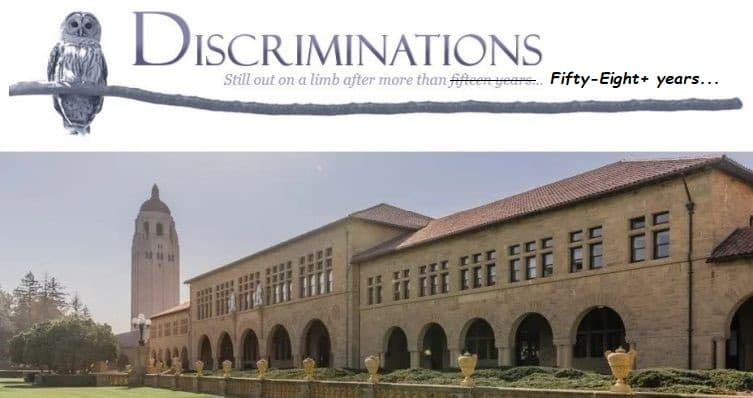 The Civil Rights Act of 1964 is a landmark civil rights and labor law in the United States that outlaws discrimination based on Race, Color, Religion, Sex, and National Origin.
Report of findings on history of Jewish admissions and experience at Stanford: 'President Marc Tessier-Lavigne issues an institutional apology after a task force confirms that Stanford undertook efforts to limit the admission of Jewish students in the 1950s.'
"A Matter Requiring the Utmost Discretion": 'A REPORT FROM THE ADVISORY TASK FORCE ON THE HISTORY OF JEWISH ADMISSIONS AND EXPERIENCE AT STANFORD UNIVERSITY'.
(

It is no secret that the Democratic Party controls America's educational system, and Stanford University is just one of the many Universities under that control.

)
Affirmative Action at Stanford, Then and Now:
1) Stanford University has just apologized for its past discrimination … against Jews.
2) … that members of the Stanford administration regularly misled parents and friends of applicants, alumni, outside investigators, and trustees who raised concerns about those actions throughout the 1950s and 1960s." Misled is a euphemism; they lied.
3) Which brings us back to current president Tessier-Lavigne … Does he really believe in the principle that administrators in the 1950s violated, that all applicants should be treated "paying no attention" to race, ethnicity, or religion? That, of course, would seem to be impossible, since Stanford has long practiced affirmative action, i.e., raising and lowering the standard of admissions by race and ethnicity in order to promote diversity, not unlike the "balance" President Sterling and Rixford Snyder sought in the 1950s.
4) Stanford's current undergraduate student body is 25% Asian and only 28% white (the most "underrepresented" group there) … Again, if it is fine to deny admission to some Asian and white applicants who would have been admitted had Stanford "paid no attention" to their race or ethnicity, what exactly was "wrong" with Stanford's old practice of restricting the number of Jews? What principle did it violate that is not also violated by today's practice?
Great article by John Rosenberg who blogs at Discriminations.
The "Party of Slavery" & Discrimination
The Democratic Party has a long history of controlling people & Chattel, and as 2022 rolls around into year 2023 it is obvious that they are now experts at it.
They have Weaponized America's Federal Government in order to attack all 'n any opponents. Even parents trying to protect their children against schools teaching the racist Critical race theory (CRT) have been targeted by the FBI's Counterterrorism Division, i.e., parents are labeled as "terrorists" by the school boards & the FBI.
The Democratic Party feels that they *OWN* America's children, and that parents are an inconvenience…at best. Democratic Party openly promotes having innocent children go thru gender transitions without notifying the parents!?! How that doesn't fall under Crimes Against Humanity is beyond me!
Conclusion
Yes, the Democratic Party still thinks in terms of owning Slaves and of overseeing *THEIR* Chattel…