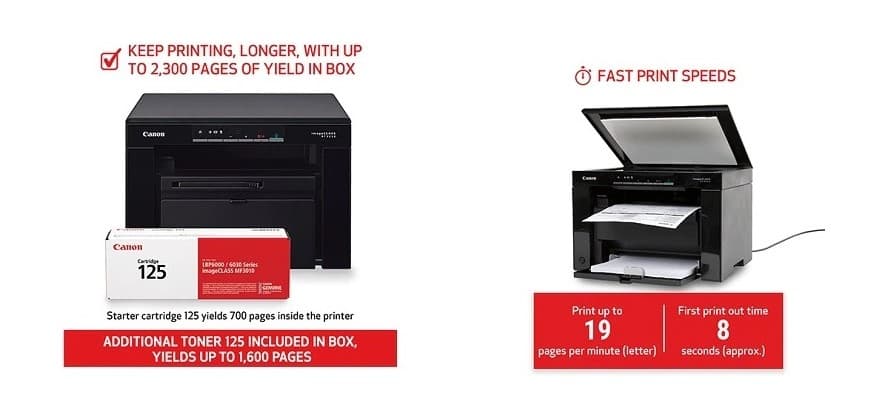 My last Pantum P2502W printer gave out last week and I immediately started the dreaded search for a new printer. I had actually purchased three of them @ Newegg Business 10/11 years ago, one at first, and then two more after I saw how well it worked. They were on sale for about $25 each, each printer came wid a "700-page starter cartridge," and I was looking for a printer wid high Page Yields – 'Page yield is the approximate number of pages you can print with one cartridge.'
I had grown tried of buying replacement cartridges at around $27-40+ each, depending on if it was a Black or Color cartridge. Page yields were closer to 120 pages for those cartridges; however, lack of page yield wasn't the only problem, i.e., those small cartridges often clogged up for lack of use!?! Cheap printers wid expensive replacement cartridges – what a gimmick! Before the Mono Pantum, I had spent more on cartridges than printers…far more, and I didn't really print a lot!
As each Pantum ran out of ink, I threw it away 'n started using a new one, and those three "700-page" starter cartridges lasted until the third printer gave out last week. Best printer deal I ever got…to date, anyway. 🙂
Second 'Thang I was looking for in a printer, was if it had Linux drivers, and the Pantum offered just Ubuntu drivers. Back then, Ubuntu & Puppy Linux were my secondary OSes to Windows, so those three printers were definitely the best printer deal I'll ever get. They also worked later wid Debian/Ubuntu-based OSes like Mint 'n then Sparky Linux as I moved back 'n forth from Ubuntu.
2022 Search for a new Printer
The search this time quickly became a 'Two-horse race' between HP & Canon. Other brands are fine, but I wasn't going to spend months this time looking for a printer specifying that it supported Linux in its Specs.
Each brand of printers have numerous models, so I had to start narrowing down my search requirements quickly. HP jumped out immediately as a brand that supported Linux, but after my wireless Pantum experience wid Linux OSes I added a third requirement this time, i.e., it should be a wired printer. Linux has improved wid wireless devices, but it can often be fickle about it.
Also, that wireless Pantum always seemed to want to do 'Something', like maybe reporting back to 'Someone'. Many of the HP printers were saying that you needed an internet connection, at least at first, and I wasn't going to waste time seeing what that was about.
I wanted a printer that: 1) supported Linux, 2) wired only, 3) Mono laser, and 4) high Page Yields. HP was getting too difficult to find a wired Mono model 'n if I found one it was too expensive. During the search of HP printers I came across the Canon imageCLASS MF3010 VP printer.
Canon imageCLASS MF3010 VP
It was more than I wanted to spend on a printer, but as a VP (value pack) it came wid two cartridges, a 700 page starter cartridge in the printer, and a replacement 1600 page cartridge. Went to Dell to see if they offered it…Dell usually only offers reliable products, and they were offering it at the same $129 price as other sites. Specs said Linux drivers were for printing only, and Canon offered the following info about the driver: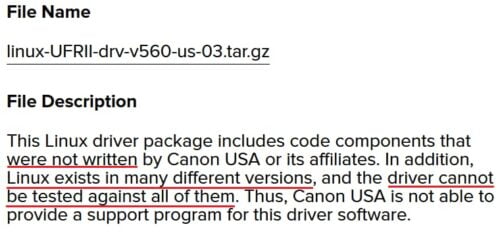 Just too many versions of a Linux OS to support them all. Like Linus Torvalds has said, fragmentation is a major "desktop" Linux problem: 'I still wish we were better at having a standardize desktop that goes across all the distributions … It's more of a personal annoyance how the fragmentation of the different vendors have, I think, held the desktop back a bit … It seems to be that Chromebooks and Android are the paths towards the desktop.'
Canon specs said Linux was an OS that it supported, but it didn't say which of the "many different versions" it supported. Later, I found out which versions were supported: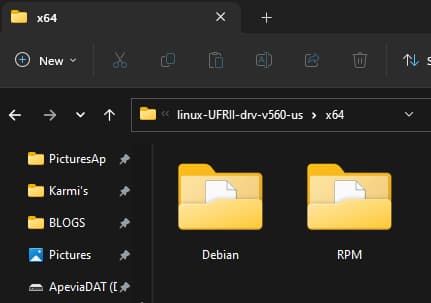 Debian would include Distros based on it, and also include Ubuntu & Ubuntu-based Distros. Sparky Linux is my #3 ranked Linux OS so that drivers suits me just fine at that point.
RPM would include my #2 ranked Linux OS, Fedora Cinnamon SPIN, and a bunch of other favorites of mine. More would be better, but Linux printer drivers are certainly more available now than they were 5-years ago. Still, Canon should've mentioned in the specs that Debian & RPM were the Linux versions they were supporting, IMHO.
Back to the HP printers
I am still leaning towards buying a HP printer, since I test 'n review Linux OSes 'n various hardware, but I barely use even one printer. 🤔 Look at this next pic:
Lots of supported Debian/Ubuntu based OSes, and also the RPM group. They also support Manjaro Linux, an Arch-based OS, but apparently not Arch or other Arch-based OSes.
I may buy a cheaper HP printer, that supports Linux, and just use it as a test printer for Linux Distros. NOTE: I couldn't get Manjaro KDE Plasma to work wid the new Canon printer, but have tried for a long time to find a printer that supported maybe Arch or at least one Arch-based OS.
Last year I purchased three Chromebooks to test 'n review, so spending a little extra money as a blogger is not unusual for me. I have even built new computers 'n posted about the 'Builds'.
OK, notice how I just talked myself into buying another printer, that I don't need, just to use as a test printer for Linux. 😁 \o/ 'Hippity hip Hoorah' \o/
Needs to be a smaller printer, preferably Mono (not a requirement tho), supports Linux (will look hard for one supporting Manjaro also), but I will be flexible since it will be for Linux testing mainly.
Conclusion
There are thousands 'n thousands 'n more thousands of different printer models, and only a small percentage of those offer some Linux support; however, it has been a huge leap forward when compared to the Linux printer support just 5-years ago.
The Canon imageCLASS MF3010 VP printer's Linux driver was basically a 'Plug & Play' install on Fedora 37 Cinnamon SPIN. Mint and Sparky Linuxes were almost as easy.