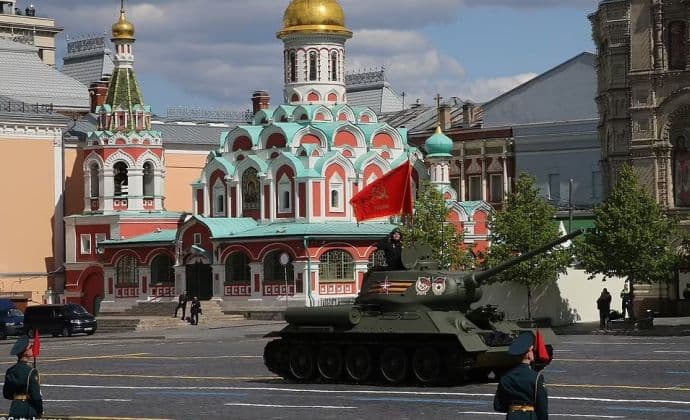 Russia's Victory Day Parade, today on Moscow's Red Square, was a true reflection of Russia's devastating Military losses—in 'Paper Bear' Putin's unprovoked war again the sovereign nation of Ukraine.
Russia's losses from this reinvasion of Ukraine – as of May 9, 2023:
1) 195, 620 dead Troops — 586.860 wounded.
2) 7,257 Armored combat vehicles.
3) 3,734 Tanks.
4) 3,031 Artillery.
5) 308 Aircraft.
6) 294 Helicopters.
7) 18 Ships and boats.
Russia sends out just ONE tank on Victory Day parade as Putin's depleted military suffers continued losses in Ukraine: Deluded Vladimir says he wants 'peace' and accuses the West of waging 'real war'
Russia sent out just one aged tank for its Victory Day parade on Moscow's Red Square today as Vladimir Putin's depleted military continues to suffer losses in Ukraine.

In his speech, watched by scores of uniformed soldiers, military officials and leaders of former Soviet nations, Putin claimed that Russia wants peace while accusing the 'western elite' of waging a 'real war' against his invading troops. It came just hours after another barrage of cruise missiles hit several sites across Ukraine.

..And in a stark contrast to previous years which have seen Moscow roll out its latest and most sophisticated war machines, today saw just a single tank took part – a Second World War-era T-34.

..As such, the parade looked more modest than usual: There were no military aircraft flying over Red Square, and fewer pieces of military equipment were displayed. For the first time in years, the parade ended in under an hour.

..Only some 8,000 troops marched in Red Square this year – the lowest number since 2008. Even the parade in 2020, the year of the COVID-19 pandemic, featured some 13,000 soldiers, and last year, 11,000 troops took part.
Putin's speech was filled wid lies, and not worth repeating here – since the Victory Day Parade reflected what was actually happening in Ukraine…