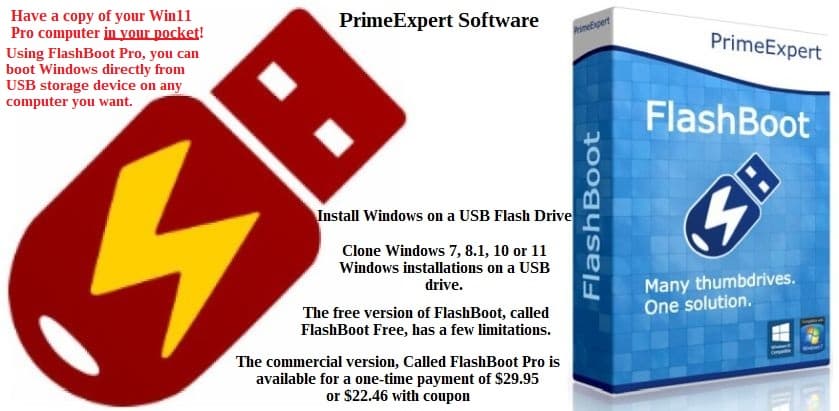 Just started using 'n testing FlashBoot a couple days ago, but am already posting about it since it was so easy to use, and worked so well. Here's a brief on FlashBoot:
Looks like 3 (or 4) parts on this initial series — probably an Info/Prep, Free version & Pro version. Here's a comparison of Free & Pro versions: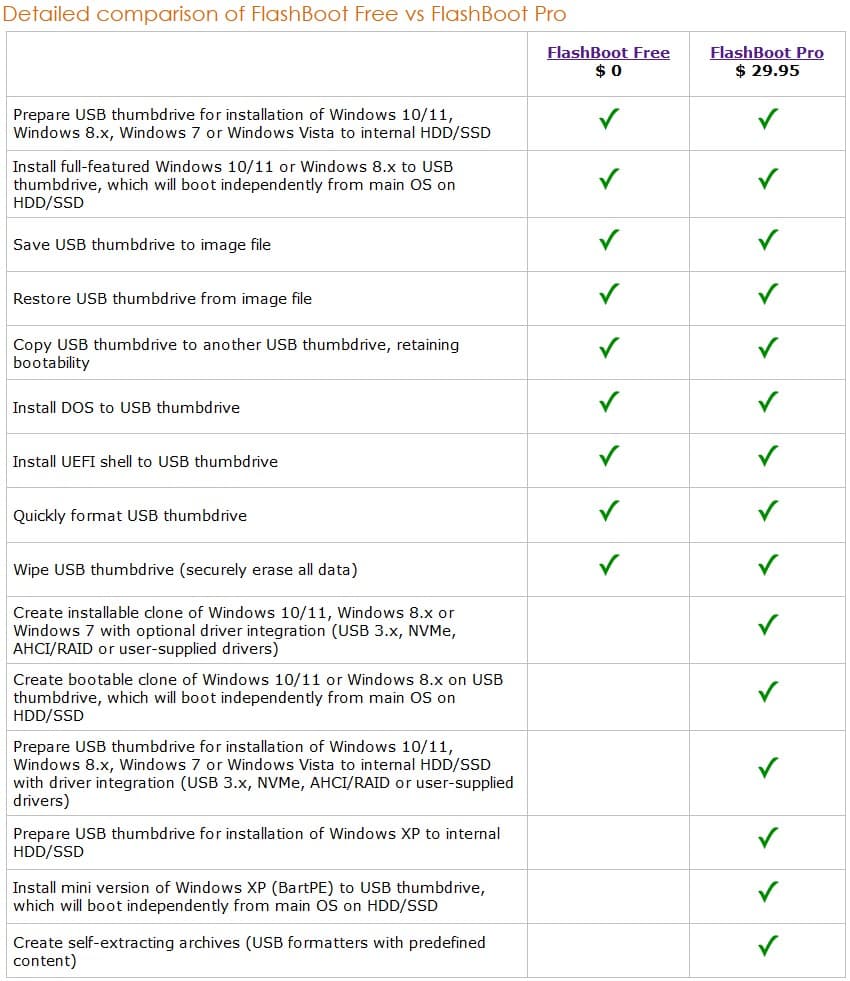 FlashBoot Free worked so well that I purchased the FlashBoot Pro yesterday 'n like it even more than the Free version — more on that in other parts.
Info
The Windows 7/8/10/11 installation page offers a lot of info 'n pics in those articles there. It also offers solutions for any problems you might have, tho I didn't really have any issues except on the AMD test machine.
Here is the list of My Computers that has be used in these tests: 1) 'Apevia' is my main computer, but also used it in these tests. 2) 'Rose' & Frankenstein (AKA – 'Frank') are my two main test computers. 3) 'DIYPC' is my only AMD machine — which has been 'retired' to a storage shed since I no longer buy or build any AMD machines. Great at promoting their products, but AMD constantly fails during my tests & experiments — 'Desktop Duty' tests, over time, have revealed that AMD just isn't as reliable or stable or even that much cheaper than Intel…IMHO.
I found several Coupons whilst searching for one, but used this one: 25% OFF FlashBoot Pro Coupon 2023 (100% Working). Clicking on "Get Deal" took me to FlashBoot's site, and the Coupon already added into the price — $29.95 minus $7.49 coupon equaled $22.46 total price. They send you a link for the Pro version, which you can also reuse later to update to a newer version.
How to install Windows on a USB Flash Drive article by Martin Brinkmann was a brief 'n helpful info source.
FlashBoot's Compatibility with Windows XP and Vista page has other info 'n also has a link to their User Guide.
Prep
The only prep that I needed before testing, besides a little research, was the "Windows 11 Disk Image (ISO) for x64 devices" from the Microsoft Download Windows 11 page — since you'll need that iso file for FlashBoot.
Once it is downloaded, you can transfer the iso to a NTFS formatted USB if needed, i.e., Fat32 can only work at transferring 4 GBs or less iso files, and the Win11_22H2_English_x64v1 iso is 5.17 GBs. If your computer is too old to pass the Microsoft requirements, you may have to use another machine to get that iso.
If you have issues wid your USB then try another brand. SanDisk & Samsung brands both worked for me. See — Linux 'n USB Flash Drives for more info.
Conclusion of Part 1
Linux isn't the only 'Portable' OS for me now. \o/ 'Hippity hip Hoorah' \o/
FlashBoot has been more than just impressive, to this point. The only real failure I had was in trying it on 'Sam' — my converted from Chromebook to Linux Laptop/Tablet/Sketchbook. Looked like it was going to boot, but then said it needed to fix something (?) with a reboot.