I have recently started this Self-Hosted WordPress blog at Hostinger, and my longtime favorite Rowling theme just didn't work right there. The Rowling theme works great on 3 WordPress.com blogs, but for some reason it was missing some dropdown menus, and some important custom settings not available for the same version when downloaded for my Self-Hosted WordPress blog.
Searched lots of free themes, but none were offering what I was looking for *OR* simply didn't work for me, and I then decided to check out some premium themes. At some point during that premium theme search I came across the Multipurpose Blog theme 's free version, loved the look, but it was missing some things, IMHO. However, liked it well enough to check out their Multipurpose Blog Pro, and wid a coupon code they were offering it was only $29.25.
It was missing some dropdown menu widgets that I like, so another search began, this time for dropdown plugins/widgets…
'Spinning' in 'Da Plugin 'Zone' 🌀
This search started out much more difficult than the entire theme search was, and continued so until yesterday when I finally found the WP Categories Widget by WP-EXPERTS.IN TEAM.
Am still planning on adding a monthly Archive dropdown widget, but still have about 3-weeks left before I'll have 2-months of archives showing. Saw a blog the other day that had a long vertical list of 60 or so monthly archives!? I don't need dropdown menus for everything, but that 60+ lines of sidebar Front page was distracting 'n looked horrid, IMHO.
Part of the 'Spinning' has been caused by the need to create menus before getting a plugin/widget to work…
Creating a new Menu – what?!?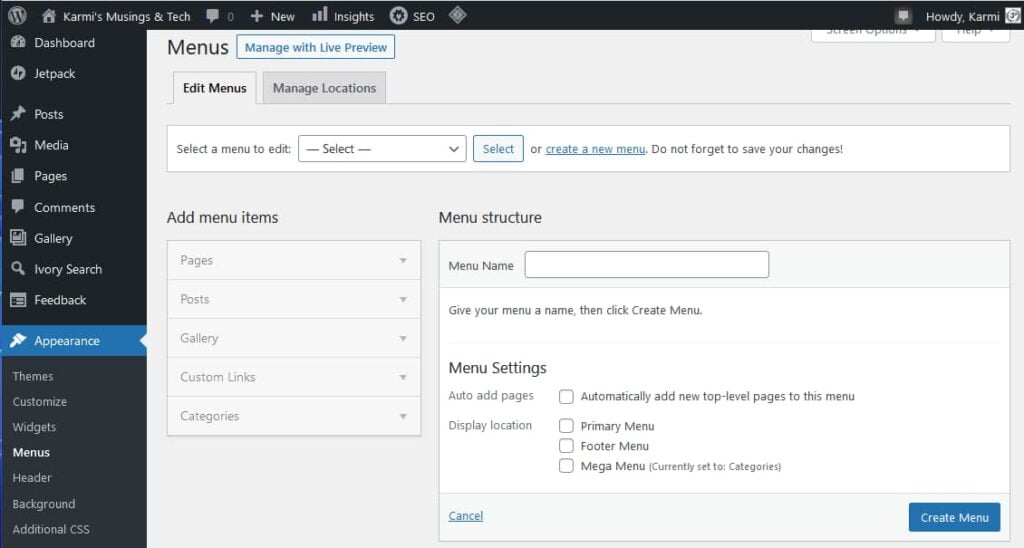 'Stuff' like that is probably why most WordPress.com bloggers never give Self-Hosted WordPress blogging a try, and who can blame them!? 😉
The 'Spinning' really gets going after hours of searching for a plugin/widget, then having to give them a try, after trying to create a new menu for the widget, and then finding out that the dropdown widget doesn't work *OR* you did something wrong because you had no clue what you were doing. 🌀
Also, one plugin/widget might work well wid Tags but not wid Categories!? Oh, almost forgot this one, some widgets may not work on the sidebar!?! 🌀
WP Categories Widget
Getting the WP Categories Widget (by WP-EXPERTS.IN TEAM) to work quickly yesterday made my week!!! 🙂
Used an earlier Category menu I had created for several failed widget attempts. Went something like this in the Customizer: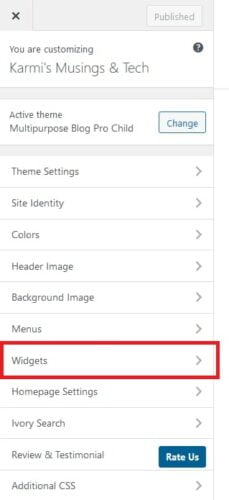 Then:
That installed the dropdown Categories widget:
Then click "Select Category" when you're ready: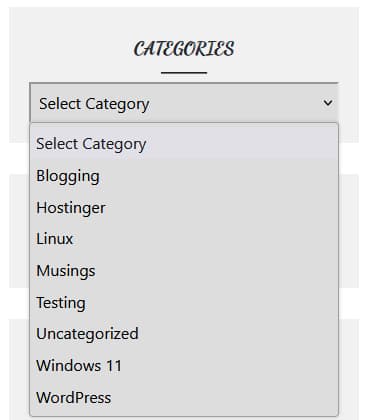 It worked! \o/ 'Hippity hip Hoorah' \o/
That plugin/widget was the hardest to find of the successful widgets so far. Just have to keep working at it if you're inexperienced like me. Developers & Programmers just type in some code 'n get it to work, but they worked hard to get to that point.
Conclusion
I'm really liking this Self-Hosting WordPress at Hostinger, and my new Multipurpose Blog Pro theme is finally close to where I wanted it! Not bad for about 8-days of hard work, IMHO.
On WordPress.com I was & am limited to what the Theme offered, but the Rowling theme has worked well for me. Had never imagined paying for a theme until I moved to Hostinger, but that $29 has been well worth it for me.
Before closing 'n posting, here is what another free plugin is showing for this post:
That's the All in One SEO (AIOSEO) showing a 79/100 score for this post; however, I don't actually know what that means, but it looks pretty good! 😉
A Blogger 'n Theme need to get along wid each other! 😉